Karsa Oy Joins European Organisation for Security (EOS)
Press Release
•
updated: Apr 29, 2019
Joining the Association Provides Karsa Oy with Increased Visibility to European Stakeholders and Opportunities to Collaborate with Key Institutions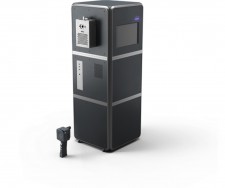 HELSINKI, April 29, 2019 (Newswire.com) - Karsa Oy, developer and manufacturer of chemical threat detectors for security applications, has joined the European Organisation for Security (EOS), the voice of the European security industry and research community.
"EOS offers Karsa Oy a seat at the table where future security policies are developed," said H.J. Jost, co-founder and chief executive officer of Karsa Oy. "Karsa will actively participate in the Security Screening and Detection Technologies Working Group by providing its talent and expertise to help shape the future of explosives vapour detection. Karsa's broader mission of chemical threat detection is well aligned with EOS' goal to keep European citizens, infrastructures and economies secure from evolving threats."
Karsa Oy is developing explosives detection equipment with high sensitivity and specificity to provide dramatically increased explosives detection capabilities at lower costs than current technologies. Bringing this technology to the global market place is expected to transform the security industry with options that will raise the level of security in markets including civil aviation, beginning with air cargo screening. Karsa's technology also has applications for customs and border protection as well as emergency management.
"We are pleased to have Karsa Oy join EOS," said Paolo Venturoni, EOS CEO. "Our members are dedicated to finding economical but effective solutions to CBRNE threats worldwide through superior detection technology."
Karsa Oy was founded in 2016 by a team of sampling and detection experts from the University of Helsinki, international industry partners and Lifeline Ventures, the leading venture capital investor in Finland, and with the support of Business Finland, Finnish Funding Agency for Innovation. For more information visit www.karsa.fi.
Source: Karsa Oy
Related Media
Additional Links