Kanpai Media Presents OverDogs Podcast's Exclusive Interview With UFC Champion Jon Jones
Press Release
•
updated: Aug 29, 2023
Jon Jones: Unveiling His Personal Journey to Being the Best in OverDogs Podcast's Exclusive Interview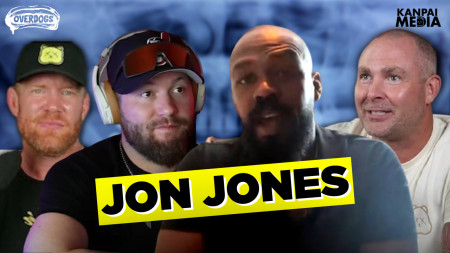 NEW YORK, August 29, 2023 (Newswire.com) - Kanpai Media releases a groundbreaking episode on the OverDogs Podcast featuring an in-depth & candid interview with UFC Heavyweight Champion Jon Jones. Jones opens up about a wide range of topics, giving listeners a rare glimpse into his personal life & thoughts.
In the longest & most intimate interview of his career, Jon Jones discusses his journey through anxiety, mental health struggles, & the challenges he faced while receiving multiple chances at redemption. He delves into his triumphant return to the UFC community & how their embrace fueled his motivation to compete again.
Hosts Josh "@IceBagz_" McLean, Mac Mally, & Sam Alvey, of the OverDogs Podcast, have carved its niche in the podcast landscape by exploring the human side of combat sports personalities by being a conversation that allows each guest to open up more about themselves, but is also a utility for getting some of the leaders in the combat sports industry's take on every upcoming UFC title cards [betters, better know about this podcast!], & friendly roasts while they all toast over a few adult beverages.
This episode featuring Jon Jones is a testament to the podcast's ability to create a unique category vertical, giving fans a rare opportunity to connect with their favorite athletes on a personal level.
"Having Jon as a supporter of our Kanpai Collective fashion line & understanding the essence of our podcast is a true honor," expressed Josh "@IceBagz_" McLean. "He not only represents the spirit of our fashion brand Kanpai Collective but also the OverDogs Podcast in introducing a fresh dimension to podcasting."
The conversation doesn't stop at personal revelations. Jones speaks about his highly anticipated fight against Stipe Miocic @ UFC295.
David Nam, Head of Marketing of Kanpai Media, shares, "The OverDogs Podcast has captured the world's attention, amassing +260,000 views & listens within a few episodes. Our approach to podcasting is setting a new benchmark for success, as the show has created a new category within the podcasting realm."
Kanpai Pandas continues to break new ground beyond podcasting. The company's recent Solana mint of their last 1000 collection set a remarkable record in the world of Web3 by being the highest collection mint in Solana history, solidifying its position as a leader in the evolving Web3 landscape.
The full episode can be watched at overdogspodcast.com.
Kanpai Media: Kanpai Media is a global multi-platform media network that curates diverse stories spanning sports, music, fashion, crypto, & various aspects of the Kanpai Pandas ethos through live broadcasts, digital platforms, audio content, content series, & live experiences.
Source: Kanpai Media