Kakapo Systems Launches Deep Analytics and Reporting Platform 'Vision360' for Cisco BroadSoft Call Centers
Press Release
•
Jun 9, 2023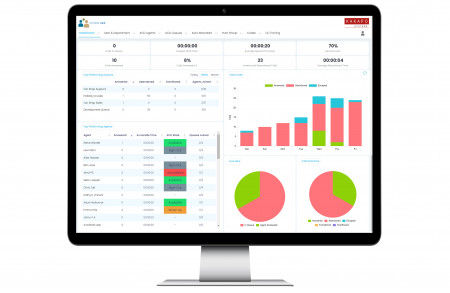 LONDON, England, June 9, 2023 (Newswire.com) - Kakapo Systems, a developer of end-user CCaaS apps for the Cisco© BroadSoft© platform, today announces the launch of the analytics and reporting platform, 'Vision360' for BroadSoft Call Centers, which provides a new and complete replacement for the legacy ECCR reporting.
Vision360 provides deep analytics for BroadSoft Call Centers. The intuitive software solution allows customer service team leaders and decision-makers access to key performance indicators and expanded metric tracking across the entire scope of their call and contact center environments. Key features include providing users access to detailed data consultation and dissemination, available in both real-time and historical contexts, alongside full cradle-to-grave call tracking to enhance reporting strategies and provide detailed insights into operational efficiency.
Steve Tutt, Commercial Director at Kakapo Systems, says, "In call center analytics, every second counts. Typically, analytics platforms have had high barrier to entry with complexity and knowledge requirements that Vision360 simplifies across the board. Some of the most exciting features, such as the wide range of reporting, for example, provides brands with a level of analytical granularity and nuance that can be the difference between a winning strategy or not."
Vision360 is an intelligent analytics and reporting platform, designed to meet both the data capture and reporting requirements of call and contact centers. Featuring a centralized dashboard, users gain a complete overview of current performance. In addition, reports are made available in graphical and tabular formats, covering a broad range of performance variables that include live calls, agent summaries, queue summaries, hunt groups, auto attendant and CLI tracing. Users can also monitor the status of unreturned abandoned calls and utilize grouped omnichannel reporting to deliver accurate insights with ease.
Regarding the launch of Vision360, Chris Tutt, Chief Technical Officer at Kakapo Systems, says, "The launch of Vision360 brings a much-needed analytics offering to the BroadSoft environment. Analytics and reporting are such a critical component of successful call centers and being able to offer a replacement to legacy ECCR reporting is ground-breaking for the vast number of businesses whose call centers are positioned within the BroadSoft framework."
Developed for smooth deployment and growth, Vision360 takes advantage of automatic syncing and an intuitive user interface to provide streamlined provisioning and ensure swift onboarding for new users.
Kakapo Systems will be hosting a webinar to showcase the new Vision360 platform on 20 June 2023 and 21 June 2023: Register for the webinar.
Visit Vision360: Deep analytics for BroadSoft Call Centers (kakaposystems.com) for more information and to book a demo.
About Kakapo Systems
Kakapo Systems are white label software providers developing intelligent applications that enhance call and contact center offerings for the Cisco© BroadSoft© platform. Hosting an international client base, with research and development based across the United Kingdom and India. Kakapo Systems delivers best-in-class software solutions tailored to meet the requirements of small to medium businesses.
Source: Kakapo Systems
Related Files