Kai Lenny Leads First-Ever Hawaiian Statewide Coastline Cleanup on Downwind Channel Challenge
Ultimate Waterman, Sustainable Coastlines Hawaii and 5 Gyres Work Together to Explore the Ocean Plastic Problem
Press Release
-
updated: Apr 20, 2017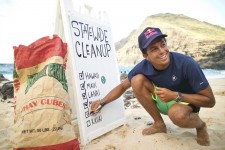 Honolulu, HI, April 20, 2017 (Newswire.com) - Six-time SUP World Champion and ultimate waterman Kai Lenny, alongside Sustainable Coastlines Hawaii and The 5 Gyres Institute, led the first-ever statewide beach cleanup on the Hawaiian Islands in March 2017.
Using human-powered crafts, Kai traveled the 200 nautical miles to attend beach cleanups and empower communities around oceanic pollution. With the help of Alison Teal, a Naked & Afraid alumna, the team encountered pollution head-on and learned creative ways to minimize impact on oceans.
Lenny and the team took 5 days to complete the voyage. For Lenny, traveling the channels acted as training for his upcoming competition season. On the heels of the coastal cleanup finish line, Lenny broke the SUP world record by 41 minutes.
With 5 Gyres Research Director and Co-Founder Dr. Marcus Eriksen, Lenny trawled for microplastic pollution, which Eriksen was first identified as "plastic smog" when he established the world's first Global Estimate of Plastic Pollution of 5.25 trillion particles, weighing in at 270,000 tons. The team facilitated 6 cleanups and removed 11,049 pounds of debris.
"When you look at all the debris on our beaches, sometimes it feels like there's nothing we can do, but we've seen that the task is achievable," said Kahi Pacarro, Executive Director of Sustainable Coastlines Hawaii. "Thanks to Kai and all our volunteers, I feel like plastic pollution has an end in sight."
ABOUT KAI LENNY:
Kai Lenny is one of the world's most impressive watermen. He's done the grueling 27-nautical mile Molokai to Oahu paddle, is a veteran on the Professional Windsurfing Association World Wave Tour, runner-up at the Kite Surf Pro World Championships, and won the SUP World Title six times.
ABOUT THE 5 GYRES INSTITUTE:
5 Gyres Institute began a series of scientific firsts by researching plastic in all five subtropical gyres, the Great Lakes and Antarctica. Its paper on plastic microbead pollution resulted in a federal ban, signed by President Obama in 2015. 
Its vision is a planet #plasticfree of pollution and believes, together, we can make a difference—one piece at a time.
For full story visit: http://www.redbull.com/downwindvoyage
FOR ALL MEDIA INQUIRIES, PLEASE CONTACT:
Sky Dickinson, sky.dickinson@us.redbull.com, 310-745-8904 
Source: Kai Lenny
Share:
---
Categories: Environmental Protection, Sports, Fitness, and Recreation, Water Sports
Tags: Action Sports, Environment, Environmentalism, Hawaii, Kai Lenny, Kite Boarding, Ocean conservation, Red Bull, Surfing, Water Sports, Waterman
---