Kabeara Kennels Teresa Heaver Raises Customer Awareness on Samoyed Breed
Press Release
•
updated: Jul 6, 2017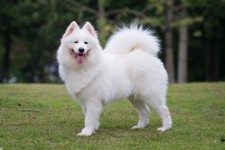 Lockport, Illinois, July 6, 2017 (Newswire.com) - Between the end of the nineteenth century and the beginning of the twentieth century, expeditions to the Arctic and Antarctic often made use of the Russian Samoyed breed.
Known for their reliability, fondness for human companions, and hardiness in challenging weather conditions, the breed which has since become a favorite in households across the West was originally used to help adventurers overcome some of the most brutal physical challenges then known to man.
Teresa Heaver, the owner of Kabeara Kennels, understands full well the history of the Samoyeds, their needs, and how to fully appreciate the dog. In fact, for over 35 years, their property (which is over nine acres) at Lockport, Illinois has been devoted to raising the breed exclusively; providing them with the nurturing they need thanks to Heaver's breadth of experience, as well as the space they need to explore, have fun, and be themselves.
Traditionally recognized as one of the friendliest breeds of dog, Kabeara have raised them for family settings all over the United States. In fact, since they're great with kids of any age, Heaver envisions them as much as a companion dog for single occupants as well as a welcome addition to larger households with children.
Teresa Heaver, likewise, put much effort into keeping the breeds at the highest quality. Many of their litters are from champion blood lines, which is why they are able to guarantee the general health of all of their dogs. Heaver's website and blog are full of positive feedback stories from customers that have used her service. She goes to great lengths to demonstrate the friendliness of the dogs, not just by using the anecdotal reports from her past clients, but also by sharing videos of the breed found on YouTube; whether alone, or in a pack of fellow Samoyeds, the dogs are not only playful but also incredibly comfortable.
However, she's also quick to let owners know about the unique needs of her dogs. Before any business transactions are able to take place, she spends time going over matters with prospective owners, introducing them to the parents of each puppy, letting them get an idea of each dog's temperament, and providing the medical history of their blood line.
This is because, while Samoyeds are often docile and playful – and never very threatening – they are known to have bursts of excitement contrary to their usually gentle predisposition. In fact, when they are in colder climates which more closely reflect their native habitat, they're much more likely to become significantly more energetic.
Likewise, Samoyeds can be somewhat unpredictable when other animals unexpectedly appear with their environments; prospective Samoyed owners should take note that they'll drop everything to chase after cats, so it's worth keeping an eye on them at all times.
Another consideration anyone thinking about owning a Samoyed will need to have is the fact that they require a lot of exercise. In fact, when it's cold outside, they can expect to spend significantly longer as they're likely to be much more reluctant to return home!
However, Teresa Heaver believes that they are a great addition to any home when these needs are met; people who would like to have a dog with a particularly gentle and caring nature, people who would like to have one of the most intelligent dogs from the Spitz breeds, and who are able to devote the time and energy required to look after them, will likely find that they have made exactly the right choice in buying from Kabeara.
Teresa, for her part, ensures that all of her dogs are registered with the Kennel Club, and ensures that she is able to provide the relevant paperwork for any dog that comes out of her kennels. If any dogs cannot be registered with the kennel club, she is always able to explain why and will provide the appropriate paperwork to support this (while also offering a significant discount for the pup).
Their 6,000 square foot facility comprises two floors, and it's here that Heaver is able to spend time forming a bond with each dog she works with before they move on to their forever homes. While she is always a little sad to see them go, she admits that she finds reading the correspondence from relieved customers for hours on end incredibly rewarding!
Press Contact: Eric Blankenship 786-332-6554
Source: Teresa Heaver
Related Media