K2forma Launches the First Comprehensive Nationwide Pest Control Web Service for Consumers
One-stop solution harnesses the power of a national database of pest control providers, coupled with do-it-yourself products and reviews.
Press Release
-
updated: Jun 5, 2018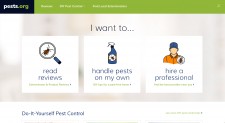 NASHVILLE, Tenn., June 5, 2018 (Newswire.com) - K2forma is proud to announce the launch of Pests.org, an all-in-one pest control resource hub, the first of its kind. K2forma worked with the team at Pests.org to research, design, and develop this nationwide direct-to-consumer web-based service for pest identification and treatment that uses independent research and original writing to empower consumers to make informed decisions.
Pests.org is designed to be a comprehensive source for information and proactive solutions. Users can visit the site to identify bugs, rodents, wildlife, and other pests, and learn how to treat them using organic and other DIY methods. Pests.org also offers a direct way for consumers to purchase the right products for their issue, giving users the confidence that they know they're buying the correct products to effectively treat their problem.
Visitors to Pests.org can also determine whether their issue requires a professional exterminator as well as locate local providers, all of whom are reviewed and ranked on four different metrics; cost, quality, features, and customer reviews.
As pest control is an important consideration at any time of the year, understanding when and how pests are most active will help you protect your property and prevent seasonal pest problems. The site offers recommendations and advice to help navigate the sometimes confusing aspects of protecting your home and family from pest infestations with articles such as Pest Control for Expectant Mothers and Everything You Need to Know About the Health Risks of Zika.
Do you live in one of the Top 15 Worst Cities for Roaches? Find out where your city ranks: Top 15 Worst Cities for Roaches
"K2forma is proud to work with a team like Pests.org who is dedicated to excellence and quality content at every step of the way. We believe that Pests.org will put the power back in the hands of the consumer, with education and impartial advice. There really is nothing like this in the marketplace now; a single site that provides all of this information in one place."
Whether consumers are looking for the most effective products on the market today or the best providers in your area, Pests.org has impartial reviews to meet consumers' specific pest control needs. Thanks to Pests.org, finding the right pest control approach with the best results has never been easier.
k2forma, Inc. is a full-service creative agency founded in 2007.
Media Contact:
Margaret Wray
margaret@k2forma.com
(615) 528-3364
www.k2forma.com
Source: k2forma, Inc.
Share:
---
Categories: Maintenance and Repair, Do-It-Yourself (DIY)
Tags: corporate communications agency, creative agency, digital agency, digital branding, digital marketing agency, marketing agency, marketing firms nashville, nashville ad agencies, nashville advertising agency, web design
---