JustBOGOS, First of Its Kind Grocery Savings App, Expands to Android
JustBOGOS provides those who don't have the time to clip coupons or search the weekly ads, with a way to save effortlessly on groceries.
Press Release
-
updated: Feb 7, 2017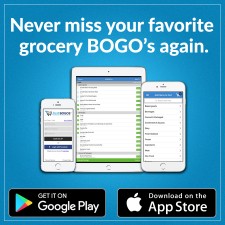 Fort Lauderdale, FL, February 7, 2017 (Newswire.com) - JustBOGOS, the first-of-its-kind grocery savings app, is now available on both Android and iPhone, with the recent launch of the Android app.  The free app saves Users money effortlessly on their groceries by distributing BOGO (Buy One, Get One) alerts to ensure that Users never miss their favorite grocery BOGO deals again.  The app currently sends alerts to Florida residents who shop at Publix, Winn-Dixie and Sedano's supermarkets, and last month began expansion into North Carolina with Publix alerts.
JustBOGOS is a simple yet revolutionary concept.  After a User signs up and confirms their location and preferred grocery stores, they gain access to a consolidated "at-a-glance" summary of all local Buy One, Get One sales currently available across multiple supermarkets:  All in one place.  Then, each week when new BOGO's become available, Users receive an alert which contains the quick-reading list all of the new BOGO's.
Items are sorted by store and department, and can be added to a custom Shopping List for quick in-store access.  Users can also add their favorite brands or products to their list of Favorites within the app, for custom alerts when any of those items become BOGO in their local supermarkets.  Between these features and the built-in Notepad feature, users have on-the-go access to their grocery shopping list and complete control over the type of alerts they receive and how they'd like to receive them - Via app notifications, email, or both. 
Knowledge is power.  With JustBOGOS, knowledge equals savings and Users are always in-the-know of what's currently BOGO at any given moment, allowing them to stock up on their favorites.  JustBOGOS provides those who don't have the time to clip coupons or search the weekly ads, with a way to save effortlessly by receiving instant notifications of which BOGO sales are currently available and where to get them.
The initial concept launched in 2014 in the form of email-based alerts from JustBOGOS.com.  Due to the popularity of the free service, work on the iOS app began quickly, and the app for iPhone and iPad launched in November 2015.  Most recently, in late 2016, the Android version of the app was launched.  The app is available in the Apple App Store or Google Play Store, completely free.  Those who prefer email-based alerts only can sign up at www.JustBOGOS.com.
When JustBOGOS Founder Jason Taub was asked where the idea came from, he explains how he grew tired of driving to the grocery store, picking up the weekly ad, manually searching for his favorite BOGO sales, only to find out that none of them were available.  He wished there was a way he could receive an alert every time his favorite groceries became BOGO.  The problem was, there was nothing out there like it.  So that's when Taub set out to build it. 
JustBOGOS is continuously expanding.  The app has been featured twice on the front page of the South Florida Sun-Sentinel's Money section, lots of new Users join daily, and last month expanded outside of Florida, beginning with Charlotte, North Carolina.  The startup is also seeking business partnership opportunities.
The app is available to both iOS and Android Users by searching for "JustBOGOS in the app stores, or by going to www.JustBOGOS.com.
Links:
Apple App Store - https://appsto.re/us/2BPi8.i
Google Play Store - https://play.google.com/store/apps/details?id=com.justbogos​​
JustBOGOS Website - www.JustBOGOS.com
Media Contact:
Jason Taub
Jason@JustBOGOS.com
Source: JustBOGOS
Share:
---
Categories: Consumerism, Digital Living, Frugal Living
Tags: BOGO, Buy One Get One, Couponing, Florida, Groceries, North Carolina, Publix, Saving Money, Supermarkets, Winn-Dixie
---