Junior Economic Club of Chicago Announces 50 Percent Increase in Membership, Second Year of Magnetar Capital Sponsorship
Press Release
•
updated: Jan 12, 2021
The student-run organization has hosted 60+ hours of virtual programming since March, connecting high school students with business professionals amidst the pandemic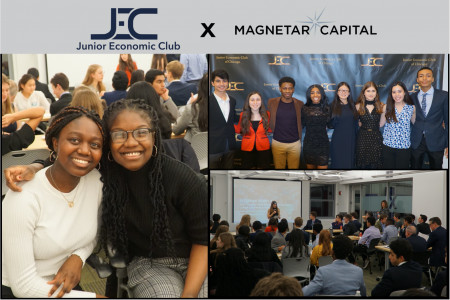 CHICAGO, January 12, 2021 (Newswire.com) - The Junior Economic Club of Chicago (JEC) wasted no time supporting Chicago high school students interested in finance and economics when the pandemic hit in March. The student-run nonprofit ramped up 60+ hours of virtual programming with more than 30 online events, connecting 800+ high school attendees with business professionals for continued, interactive learning. These efforts contributed to a 50 percent year-over-year gain in the group's membership, with members representing 35 schools across Chicago.
JEC is well-positioned to continue its growth in 2021 as the group's primary corporate sponsor, Magnetar Capital, an alternative asset manager headquartered in Evanston, IL, extends its sponsorship for a second consecutive year. Thanks to the partnership, Chicago high school students can take advantage of a free JEC membership, ensuring equal access for all.
"Throughout this pandemic, it's critical that Chicago high school students feel connected to the broader business community. It's especially important when so much of the business world, not to mention school, is now operating from home," said Elizabeth Brahin, President of JEC Chicago, and high school senior at Walter Payton College Prep. "Through our virtual programming and Magnetar's sponsorship, JEC is strengthening our impact and offering more Chicago students an opportunity to engage with the professional business communities."
In addition to Magnetar's sponsorship, Magnetar hosted a virtual interviewing and resume workshop for JEC members, preparing the talented group for finance, economics, and business internships.
"The caliber of JEC's student membership base is exceptional. They're the future of finance in Chicago, and our team at Magnetar has enjoyed guiding them as they build career skills and navigate this pandemic," said Amira Amin, Deputy COO at Magnetar. "Magnetar is a proud JEC sponsor and is committed to supporting the students in growing the organization's reach in Chicago and beyond."
In addition to the virtual events offered, JEC members are encouraged to give back through various community initiatives the organization establishes.
"We're a voice for Chicago high school students," said Baha Kharoofa, JEC Chicago Vice President and high school senior at St. Ignatius College Prep. "Our membership is resilient. We aren't letting a global pandemic get in the way of our ability to learn, connect, and grow as Chicago's future business leaders."
About the Junior Economic Club:
The Junior Economic Club (JEC), a student-run 501(c)(3) nonprofit, was founded in 2014 by Lincoln Park High School students. It offers equal access to opportunities that empower the next generation of effective leaders. The club provides high school students exposure to the business world and fosters a supportive community of like-minded students through a three-faceted approach; forums, engagement events, and community initiatives. JEC has nine chapters across four countries and continues to expand its mission around the globe.
Press Inquiries:
Cole Francis
cole@junioreconomicclub.org
Source: Junior Economic Club of Chicago
Tags
Additional Links