#JungaYeti Author/Speaker Announces Upcoming Children's Anti-Bullying Book
Creator of 'Junga the Dancing Yeti', pledges to donate books to children in hospitals and shelters.
Press Release
-
updated: Apr 2, 2018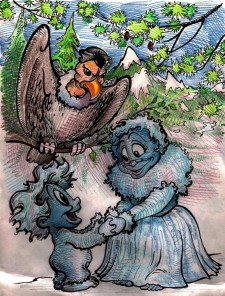 CLEVELAND, April 2, 2018 (Newswire.com) - After performing as a yeti in the 2011 film "Abominable," author Stephen Tako has been playing with the idea of using the character in a constructive and useful way. When his inspirational book "Motivated to Act" was published in 2012, the book's unique approach and heart-warming stories about his childhood thrust him into the limelight as an anti-bullying advocate. Two years later he began to write a children's book about a lovable yeti boy who goes on an adventure with his grandma; only to discover a world of discrimination and bullying to overcome.
After the sudden death of his father in December, 2017, Stephen made it his mission to finish the book. Notably, he hired Peter Gullerud, one of the lead animators from Disney's "Aladdin," to do the illustrations. Upon successfully running a finance campaign, the book's print date has been scheduled for July 2018.
In connection with his fundraising efforts, Stephen will be donating 50 books to hospitalized children in both the Cleveland, Ohio area as well as the Los Angeles, California area. "As a voice-over artist, I plan to coordinate group readings of the book for children at select institutions using the character voices I've created," said Tako.
In the Cleveland, Ohio area, Kronenberger CPA and Company, Inc has joined the cause as a Corporate Sponsor and will be donating another 50 books to children in domestic violence shelters in Medina and Summit counties. Skyline Home Loans of Santa Clarita was the first California Corporate Sponsor and will be donating 50 books to children at the local Child and Family Center. Stephen plans to attend events this summer with the sponsors to present these books.
To preorder your book or to learn more about Junga and the author's anti-bullying mission, visit Kickstarter.com or INDIEGOGO.com and search for "Junga the Dancing Yeti." "The Junga Yeti team" is actively seeking additional corporate sponsors and is excited to be given the opportunity to make a positive difference for so many children.
About the Author: Anti-Bullying Advocate, Public Speaker and Entertainer, Stephen Tako, grew up in Medina County, Ohio. After moving to Los Angeles, he acted in Hollywood films such as "Oz, the Great and Powerful," "Gangster Squad," and "There is Many Like Us." As a teacher on "GLEE!", he earned his Screen Actors Guild union status, and is currently working on his new book "Junga the Dancing Yeti." Stephen also hosts International Film Festivals as well as the anti-bullying talk show 'Tako Talk'; with 30 episodes on YouTube helping teens and adults overcome the negative effects of bullying.
For more information, email Stephen@StephenTako.com
Media Contact:
Marge Bieler, marge@RareAgent.com
Source: Stephen Tako
Share:
---
Categories: K through 12, Children's Issues
Tags: abuse, anti-bullying, bullying, children, discrimination, inspirational, junga, kids, motivational, neglect, self-esteem, yeti
---