June 12 - 18 2016 Is Rare Chromosome Disorder Awareness Week
Press Release
-
Jun 13, 2016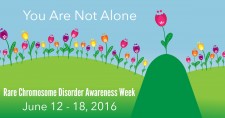 Boca Raton, Florida, June 13, 2016 (Newswire.com) - Chromosome Disorder Outreach (CDO) (http://chromodisorder.org/) invites everyone to learn more about Rare Chromosome Disorder Awareness Week. CDO is a nonprofit committed to providing support and information to anyone diagnosed with a rare chromosome change, rearrangement or disorder. CDO also actively promotes research and a positive community understanding of all chromosome disorders. CDO's website provides an extensive library of information, ways to connect to support groups, info on locating helpful genetic counselors, and more.
Chromosomes are the structures that hold our genes. When a chromosome has been mutated, this may cause a genetic disorder. Several million people in the United States live with rare genetic diseases with 50% of these being children. There are approximately 7000 different types of such diseases, with many not even having a name. A significant part of this number are chromosomal disorders - conditions caused by deficiency or excess of "normal" genes.
June 12-18 is Rare Chromosome Disorder Awareness Week with the intention to bring awareness to families, medical personnel and organizations, and news outlets. It is a week to let people with chromosome disorders and their families know they are not alone and let them know of resources that can help them. It is a week to inform those in positions to help know about these rare disorders and provide ways of support. It is a week to call on researchers to delve into these medical challenges.
"Imagine the experience of greeting your child at birth and discovering that there were serious problems. Imagine being given a prognosis of a short life with little development. You feel so heartbroken, alone, confused, sad, terrified. There's no disease name. The doctors have little to say. Your baby is whisked away to the ICU. And then you discover Chromosome Disorder Outreach, an organization that seems to be there especially for you at this very moment. There is information, direction, and comfort in the advice and medical research information that we receive from them. Knowing we were not alone in this has made all of the difference in the world to our family's sanity!" (a mother)
For families, share this Awareness Week through social media (go to CDO's website for ideas). Create an event to inform others about rare disorders. Send this press release to your local paper and local hospitals.
For those in the medical professions, learn more about these rare disorders so that you can be a genuine support to patients and families who need information to deal with challenging and lonely times. Learn about CDO, and refer patients so they can find the support and knowledge they need.
"My 2 week old son was diagnosed with a chromosome disorder a week ago. I didn't know where to go or what to do. I am so thankful I found CDO. They responded quickly and offered us invaluable connections to other families going through the same thing. This life preserver saved me from an otherwise very overwhelming and isolating experience."
 Chromosome Disorder Outreach seeks assistance in getting the word out about Rare Chromosome Disorder Awareness Week – June 12-18, and also about the services provided by Chromosome Disorder Outreach. We invite inquiries. We invite newspaper stories and magazine articles. For further information, please contact visit www.chromodisorder.org or contact Linda Sorg, linda.sorg@chromodisorder.org
Source: Chromosome Disorder Outreach Inc.
---
Categories: Healthcare, Physicians, Genetics
Tags: chromosome disorders, genetic disorder, rare disorders, support group
---