Judson Brandt Appointed CEO of Priority Jet, a Premier Provider of Private Jet Aviation
Press Release
•
updated: Apr 24, 2018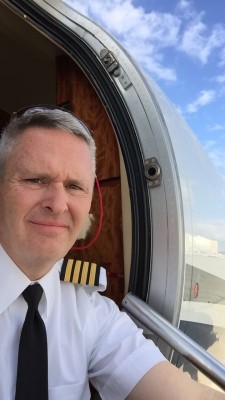 ATLANTA, April 24, 2018 (Newswire.com) - Priority Jet (www.priorityjet.net) announced today that it has appointed Judson "Jud" Brandt to be its new chief executive officer. Brandt previously served as fleet captain for Priority Jet's largest fleet, the Citation XL, and will continue to fly the line. Prior to coming to Priority Jet, Brandt held a broad variety of roles in both aviation and business, including pilot for Delta Private Jets; pilot at ExpressJet; CEO of Cybis LLC; CTO for Bridgewater Associates; partner at Accenture and PricewaterhouseCoopers; CIO at Delta Air Lines Inc.; and VP at Oracle.
"We are excited to have Jud take the lead at Priority Jet. He knows our operations and has the tremendous business leadership capabilities we need to continue our growth trajectory," commented Scot Foith, chairman of Priority Jet. "Priority Jet is a deeply experienced group of employees. Our ongoing challenge is to grow this business to deliver outstanding financial results for our aircraft owners and perfect private jet travel experiences for our passengers while maximizing the market opportunities before us. Jud will lead this effort."
Brandt replaces Scot Foith, the founder of Priority Jet, who will move to the chairman role with the company.
"I am honored and excited to be asked to lead Priority Jet. The leadership team is incredibly talented. The potential for growth in our top-tier of the aviation market is huge. Together with Steve Dunn, VP of client experience, I hope to grow Priority Jet, significantly outpacing the market," stated Brandt. "I look forward to continuing the tradition of safety and reliability while delivering VIP private aviation experiences for our guests and outstanding financial results for our aircraft owner/partners."
Brandt and his wife Angie have three sons, all Army officers, and four grandchildren. They live on a private airport South of Atlanta, where they enjoy sport aviation and their personal aircraft.
About Priority Jet
Priority Jet (Corporate Jet LLC dba Priority Jet) is the premier private jet charter and aviation management provider in the Southeastern U.S. Based in Atlanta, Georgia, Priority Jet operates light and midsize jets throughout North America, Central and South America, and the Caribbean. They offer concierge charter services 24 hours a day/365 days a year in order to facilitate any and all client requests quickly, safely and efficiently. Beyond their own fleet, they have access to hundreds of aircraft through a network of preferred vendors.
Priority Jet offers complete aircraft management services to assist current and prospective owners with the complexities of owning and operating an aircraft profitably. Priority Jet specializes in creating tailored management programs to accommodate individual needs, schedules and budgets. Priority Jet has partnered with Flight Safety International, the world leader in aviation training, to ensure Priority Jet flight crews consistently exceed any and all certification and regulatory requirements.
Aircraft owners benefit from Priority Jet's deep experience in maximizing the asset's value while providing top-tier private aviation services. This includes everything from personalized air travel solutions to other exclusive luxury options.
Whether someone requires a private jet charter flight, private jet aircraft management or simply industry expertise – Priority Jet is here for them. Contact Priority Jet today to find out how they can help meet your goals.
Contact Priority Jet:
Steve Dunn
VP, Client Experience
+1-678-476-2937
sdunn@priorityjet.net
Allie Ray
Director, Charter Sales
+1-678-381-0090
aray@priorityjet.net
Source: Priority Jet