Josephine Event Center Models the Future of Virtual Events
Press Release
•
updated: Jun 16, 2020
Industry-leading Technology Sets the Stage for Virtual Gatherings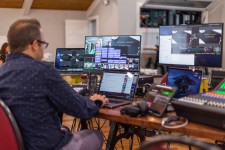 DENVER, June 16, 2020 (Newswire.com) - Since purchasing the historic Bosworth House in mid-2017, Unbridled Productions has converted the adjoining event hall into a future-proofed production and recording studio. The house's exterior, preserved in its original 19th-century fashion, belies the cutting-edge technology found within the newly dubbed Josephine Event Center. An expansive LED wall (15'9" x 7'11"), premium studio switcher (8 input), dynamic lighting system, and a trio of permanently installed cameras surround a sizable stage (21' x 14' x 14") to establish the optimal setting for hosting virtual events.
According to Kevin Miller, President of Unbridled Productions, "It was our dream to be able to host multiple types of events in the facility. We are prepared to support any type of business meeting, social event or special gathering."
Since April, Unbridled has produced several virtual events for audiences ranging from 25 to 3,000+ attendees. As the rise of remote viewing coincides with the continued advancement of streaming platforms, virtual events are also expected to grow in popularity. In addition to reducing costs associated with standard live events, virtual events are accessible to attendees who may be unable to travel. With the Josephine Event Center, Unbridled aims to position itself as an educator in the industry, laying the groundwork for other event organizers.
"As time progresses and people are once again comfortable with gatherings, we look forward to converting the event center into a hybrid event space," said Miller.
Connecting companies with their people has always been Unbridled's highest priority; the Josephine Event Center allows Unbridled to bring individuals closer together than ever before, even when they're miles apart.
To learn more about Unbridled's virtual event capabilities, sign up here to attend the ongoing Unbridled Webinar Series, or reach out to the team directly.
About Unbridled: Unbridled is an event management, event production and creative agency delivering intentionally crafted events through our customer-focused approach to creative design, attendee management, program logistics, production, and travel. We're known for our values-driven culture, creativity, and full-service flexibility.
Source: Unbridled Solutions
Additional Links