Joseph Lewkowicz Promotes the Holiday Season as Optimal Time to Buy and Sell
Press Release
•
updated: Oct 31, 2018
North Tampa Coldwell Banker agent Joseph Lewkowicz promotes the holiday season as an optimal time to buy and sell homes, but before the season's deadline of Dec. 15, 2018.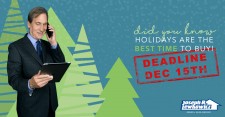 TAMPA, Fla., October 31, 2018 (Newswire.com) - It is a common misconception that selling a home during the winter or holiday season is a bad time on the housing market, when in fact it is a great time to sell or buy a home. According to recent data, existing home sales have increased from November to December an average of 4.5 percent in the past three winters. That means even though there are less homes on the market, buyers are out there buying at a steady, if not increased, pace.
Sellers and buyers may feel overwhelmed during the holiday season as they juggle to meet certain demands, but there are many advantages to adding a house on the wish list.
Joseph Lewkowicz, a premier real estate agent representing North Tampa, newly promotes individuals to buy or sell during the holiday season in his most recent livestream. He begins by stating that it's no secret that the summer months - June and July - are peak times for the real estate market, however, this doesn't necessarily mean that the time before the holidays does not have the potential to bring great opportunities to buyers and sellers alike.
In fact, many sellers try to sell before Dec. 15 to receive benefits such as homestead exemption and many buyers have affordable options due to this little rush in sales. According to Joseph, if sellers have the opportunity to sell before Dec. 15, they should do so quickly.
For more information on the current real estate market during the winter season or to beat the clock, check out Joe's monthly livestreams at https://josephlewkowicz.com/livestream.
To watch the full October Market Recap report, visit Joe's TV channel: https://www.youtube.com/channel/UCwVCxXv6wT0S-LDFORWTwNw.
Joe Lewkowicz is a renowned real estate agent in the North Tampa Bay area and has been ranked as a top salesman the past seven years, making him a significant competitor with other large markets in places like New York, California and Miami.
He has worked in the Tampa Bay area for approximately 40 years and worked to provide the best service for his customers. His hard-to-forget mantra "No-one works harder to sell your home" has proven to be true throughout his extensive career as a real estate agent.
For media or press inquiries, please contact media relations liaison Dana Blickensderfer at info@iBossAdv.com.
About Joe Lewkowicz
With over 40 years of experience, Joe has proven himself to be a prominent figure in the Tampa Bay real estate market. Selling thousands of homes throughout his career, Joe is known for his exceptional customer service, attention to detail, market-savviness and calculated decisions. Search for North Tampa, Florida, homes for sale on the most up-to-date Real Estate MLS in Mid-Florida at http://josephlewkowicz.com/.
"No-One Works Harder To Sell Your Home!" For more information, visit http://josephlewkowicz.com.
Source: Joseph Lewkowicz
Related Media
Tags
Additional Links