Joseph Lewkowicz Predicts Signs of Recession in North Tampa Real Estate Market
Press Release
•
updated: Feb 8, 2019
Joseph Lewkowicz, a top real estate agent serving the North Tampa Bay area, released shocking information about the future condition of Tampa's real estate.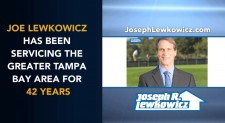 TAMPA, Fla. , February 8, 2019 (Newswire.com) - For over 40 years, Joe has been selling more houses in Northwest Tampa than any other agent, which has enabled him to gain reliable expertise in the real estate industry. To help make this possible, Joe uses offline and online marketing strategies to sell. For example, his direct mailers can successfully target specific zip codes, and his social media platforms can provide advantages in the market by exposing residential listings to a large niche demographic.
With his years of experience and the utilization of his various marketing strategies, Joe has predicted a real estate recession in the Tampa Bay area in the next year. It can be challenging for many people to know when this is happening, but Joe provides his insight and signs to look for during a recession in his latest newsletter.
According to the newsletter, in Northwest Tampa, the rate of appreciation has ranged from 4% to 10% depending on the area. However, the rate of appreciation in the main urban areas has recently begun to slow down to 6-7%. Joe's prediction it may drop to 5% for the year over year appreciation in South Tampa seems to stand clear that a recession is near.
The inventory for homes for sale has been increasing as there are over 4,500 homes on the market in Hillsborough County alone, while the current rate of closings is 1,774 per month. Joe believes it's important to look at total inventory vs. sales per month and the number of days a home is on the market. A clear sign of a recession is when the inventory increases and the average units sold decreases.
To put these observations into perspective, Joe explains a situation about a home he recently closed, which can be found in the newsletter.
Joe believes it is crucial to know the market and the strengths and weaknesses of the home being sold, but not everyone fully understands these concepts. That is why Joe is always willing to help and provide the actual value of a home that needs to be sold.
For more statistics and important information about Tampa's real estate market or for more information about Joseph Lewkowicz, please visit http://josephlewkowicz.com
For media or press inquiries, please contact media relations liaison Claudia Tran at claudia@ibossdigital.com
About Joe Lewkowicz
With over 40+ years of experience, Joe has proven himself to be a prominent figure in the Tampa Bay Real Estate market. Selling thousands of homes throughout his career, Joe is known for his exceptional customer service, attention to detail, market-savviness and calculated decisions. Search for North Tampa FL homes for sale on the most up-to-date Real Estate MLS in Mid-Florida at: http://josephlewkowicz.com/
"No-One Works Harder To Sell Your Home!" For more information visit: http://josephlewkowicz.com
Source: Joseph Lewkowicz
Tags
Additional Links