Joseph Lewkowicz Announces the Economic Forecast of Tampa Bay's Real Estate Market
Press Release
•
updated: Feb 26, 2019
Top real estate agent of the North Tampa Bay area, Joseph Lewkowicz, provides his view and advice on Tampa Bay's Real Estate Market, which he predicts could be on the path to a concerning decline.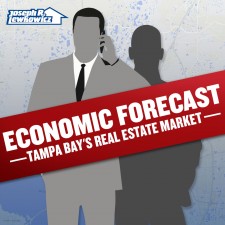 TAMPA, Fla., February 26, 2019 (Newswire.com) - Joseph Lewkowicz has acquired exceptional knowledge and experience in real estate through his service to the industry for over forty-two years. With his capability to be consistent and easily accessible, he provides all his clients with outstanding customer service. Now, he's giving all of Tampa Bay the most up-to-date economic forecast of the real estate market.
With the slight buildup of inventory of homes for sale, Lewkowicz predicts there to be a real estate recession, or at least a slow down in the next year. According to Coldwell Banker, the real estate franchise Joe works with; it has been reported that there are over 4,500 homes for sale in Hillsborough County, and the current rate of closings is 1,774 per month. With the inventory increasing and the average units sold decreasing, a recession, or slow down could be heading toward Tampa Bay.
What could this mean for potential homebuyers and sellers? For buyers, it may be a great time to get a good deal on a home, but they will still need to qualify for a loan. Interest rates have remained at a stable level, and it appears as if the Federal Reserve will not be raising rates. However, with a volatile economy and stock market, mortgage rates can increase quickly. This would mean higher costs for purchasing and home prices will not drop rapidly if this happens. Lending criteria is and will remain strict for low credit scores and high debt to income ratios. If buying, Joe recommends that you start a relationship with a mortgage lender you can trust.
In a case like this, the buyer should do further research and compare the home's price with other recent sales made in the area. Also, banks are not willing to provide additional credits or repairs if an issue arises during an inspection in a short-sale or foreclosure. Financing can also be more difficult, especially if the economy is not doing well. When trying to obtain a mortgage, lenders might be picky about the requirements for approval, such as a large down payment or a high credit score.
For people who want to sell a home, Lewkowicz has found that homes with upgrades such as new kitchens, bathrooms, paint, and flooring bring the most money and sell quickly. The ones that need repairs and upgrades sell for a discount to top quality homes of 15-20%. The increase in inventory means there are more sellers than buyers in the market. In an event like this, the pricing and staging of a home are crucial.
Overall, the most important thing people can do during a real estate recession is to fully understand the market and be aware of the strengths and weaknesses of the home you plan to sell. Take action on its negatives and exaggerate the positives.
As an experienced and knowledgeable real estate agent, Joseph Lewkowicz strives to give his clients as much information on the market as possible and is always willing to help. Contact Joe today and discover more about Tampa Bay's real estate at https://josephlewkowicz.com/tampa-bay-recession
To gain access to the full newsletter, please visit https://josephlewkowicz.com/tampa-bay-recession
For media or press inquiries, please contact media relations liaison Claudia Tran at claudia@ibossdigital.com
About Joe Lewkowicz
With over 40+ years of experience, Joe has proven himself to be a prominent figure in the Tampa Bay Real Estate market. Selling thousands of homes throughout his career, Joe is known for his exceptional customer service, attention to detail, market-savviness, and calculated decisions. Search for North Tampa FL homes for sale on the most up-to-date Real Estate MLS in Mid-Florida at: http://josephlewkowicz.com
"No-One Works Harder To Sell Your Home!" For more information visit: http://josephlewkowicz.com
Source: Joseph Lewkowicz
Tags
Additional Links