JONES Media Acquires Machine Learning Innovator Verve.ai
Augmented Intelligence platform fortifies and expands JONES' media solutions with game-changing Data Science
Press Release
-
updated: Oct 5, 2017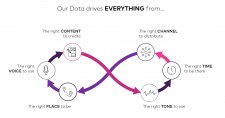 TORONTO, October 5, 2017 (Newswire.com) - JONES Media Inc. announced its acquisition of Verve.ai, a Canadian Augmented Intelligence Data Platform, from realSociable. One of Canada's largest media and content companies has now created a globally competitive offering, with a portfolio of data-driven content and media solutions, powered by proprietary, machine-learning technology.
Already an established leader in digital advertising, JONES Media's acquisition serves its transformation and expansion plans, challenging industry capabilities that will compete in the unchartered waters of where data science meets artificial intelligence.
"The acquisition of Verve.ai is a strategic investment: we will not only evolve our current content & media operation, but offer our clients unparalleled solutions. The interpretation of data, as presented in the past, is no longer: whether hyper-targeting specific audience segments or geo-targeting devices, our Social DNA™ data capabilities are now at the forefront of technology development, which will help us serve better, and enable us to scale," says Cathy Fernandes, Chief Executive Officer at JONES Media.
JONES Media's newly acquired systems are designed to provide a panoramic view of consumer journeys online and within the social environment — a map that has remained elusive to marketers in the digital era. With insights that are not only historical but, more importantly, predictive, brands are given temporal data, "real-time" measurements, and models of future behavior that are consumer-centric and brand relevant. This evolution of attribution modeling, where data points across the fragmented consumer journey are identified and assigned a relative value, can now truly align marketing objectives. This will allow JONES to build out a full attribution model for clients seeking to truly track upper funnel activities to conversion.
"Verve.ai provides JONES with extensive analytics and metrics on the effectiveness of every social message and exposed audience; this allows JONES to optimize and guarantee outstanding performance on all of our client programs," says Andrea Fernandes, Vice President of Sales Operations & Partnerships.
To the leadership at JONES Media, this investment is seen as a Copernican revolution: utilizing patented, machine-learning technology, data science is being transformed by Verve.ai. Where advertising in this medium is currently collating impressions, JONES Media is rallying the call for true engagement. It wants to provide the necessary futureproof tools to its clients that give additional colour and insight currently lacking in today's digital landscape.
"Data alone carries no actionable value. Today's CMO needs insights that beg questions of her business in order to drive smarter decision-making. Marketers are currently drowning in the 'illusion of knowledge' because, in the context of traditional data interpretation, insights are poorly delivered and the ensuing information does not translate into valuable intelligence. Verve.ai allows for a far better understanding of data, processing it into meaningful information, which will lead to better business decisions. In partnership with JONES, our technology has begun to fill a significant gap in the market: articulately connecting the dots of consumer journeys." says Dalia Asterbadi, CEO at Verve.ai.
Science and analytics have now merged with the arts of marketing and advertising.
"Verve.ai is not only about intelligent data; it allows us to elevate our offering with unprecedented metrics, analysis, and value. We can better verify influencers, for example, with their audiences (extant and un-duplicated), with demography, sociography, geography, brand conflicts, etc.," says Cathy Fernandes. "But our technology goes further and deeper, including newly launched Fraudulent Bot Examination methodologies that detect fake or irrelevant followers across most social channels/platforms."
"In addition, we become extremely relevant across all verticals ie. Financial, e-comm etc, especially where monitoring conversion is crucial to driving effective sales."
The latter is an appendage, amongst others, that will see a holistic campaign examination beyond what was previously available to advertisers and marketers. JONES Media is now allowing for highly articulate engagement products because of the vast data-point analysis provided by its augmented intelligence technology.
"JONES Media is thrilled to welcome the Verve.ai team into its fold, and we look forward to making huge strides in this market, as we have already been making with some of our clients," says Erin McDougald, Vice President of Sales at JONES Media.
Dalia Asterbadi, who will now lead as Chief Technology Officer at Verve.ai and resident Data Scientist at JONES Media, says of the company: "We could not be more excited to join this team; our assets 'fit like a glove' and our people are energized at the thought of what this new team brings to our growth, our clients and the larger market."
For further information and or set up interviews, please contact:
Cathy Fernandes (CEO, JONES Media)
Cathy@mrandmrsjones.ca
Source: JONES Media
---
Categories: Multi-Media, Business Technology, Marketing, Retail Technology
Tags: Agency, Artificial Intelligence, Consumer, Content, Data, Machine Learning, Marketing, Media, Programmatic, Targeted, Technology, transformation
---