Jon Farzam, Vice President of Shore Hotel, Launches a Revitalization Plan
Press Release
•
updated: Apr 15, 2021
Jon Farzam, the Vice President of Shore Hotel in Santa Monica, California, has launched a revitalization plan for his hotel to boost the Santa Monica community.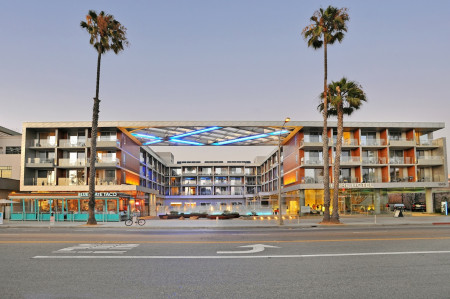 SANTA MONICA, Calif., April 15, 2021 (Newswire.com) - Shore Hotel's objective is to modify existing accommodations, better the community and provide new employment opportunities for Santa Monica.
The Revitalization Plan began in the summer of 2020 when Shore Hotel submitted a request to the City of Santa Monica for modification. Shore Hotel's Vice President, Jon Farzam and his family plan to repurpose space within the hotel's property lines. The plan will convert an existing 3,140 square feet of the property into 14 affordable micro-hotel rooms along with a 9-seat café and an 80-seat restaurant. By repurposing some of the existing property, the hotel will uphold its long-standing reputation of sustainability and minimizing its carbon footprint. Shore Hotel operates as one of Santa Monica's most eco-friendly hotels. Shore Hotel's eco-conscious business practices have resulted in exceeding the California minimum energy performance by a staggering 21%.
The true beacon of Shore Hotel's revitalization plan is their vision of equal opportunity for all by providing diverse and underserved communities access to Santa Monica's coastline at affordable prices. The hotel will also offer each new room to host stays for educational programs, such as The Surf Bus Foundation, throughout the year at no cost, including free meals for participants.
As a local and family-owned business, Shore Hotel has always put the Santa Monica community first. The hotel prides itself on uplifting its staff and creating a pro-worker environment. Although the business took a hit from the Covid-19 pandemic, Mr. Farzam and his team have tirelessly and successfully kept over 100 employees working without layoffs, maintaining health benefits and ensuring higher than average wages compared to other hospitality businesses in Los Angeles County. The hotel's proposed Revitalization Plan will provide new employment opportunities through a local hiring program that would promote and prioritize hiring Santa Monica residents.
To make the Revitalization Plan a reality, Shore Hotel is asking residents, stakeholders, community groups and local businesses for their support. In order for the plan to be set in motion, Jon Farzam is reaching out to his community to encourage the Santa Monica Planning Commission and the City of Santa Monica to approve their request for the modification of their current Conditional Use Permit. Write a letter or call the Santa Monica Planning Commission to show support for Shore Hotel's Revitalization Plan and boost the Santa Monica community.
About Jon Farzam and Shore Hotel: For over 30 years, the Farzam family has owned and operated hospitality businesses throughout the city of Santa Monica. Jon holds a Bachelors of Science in Hospitality Management, where he serves on the Alumni Board and is a member of the International Hospitality and Tourism Management Honor Society.
Jon Farzam and his family are committed to operating Shore Hotel as an eco-conscious establishment. The Shore Hotel has obtained certifications including the Santa Monica Green Certification, LEED Gold Certification, and California Green Lodging Program's Environmentalist level standard.
Source: Shore Hotel