Join "The Original Dawgs" for the 30th Anniversary Reunion of the Legendary "86" Cleveland Browns
Press Release
•
Oct 14, 2016
Fans can meet select members of the team for a meet and greet and autograph session during their 30th Anniversary reunion.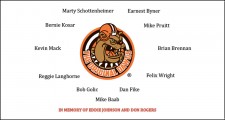 Cleveland, Ohio, October 14, 2016 (Newswire.com) - Cleveland Brown fans get ready for a blast from the past! Join Kosar, Golic, Mack, Langhorne as well as many other "Original Dawgs" listed. It will be a very special honor to have Marty Schottenheimer join the celebration for a special walk down memory lane at this "exclusive event" with fans for all the guys to huddle together as a team one more time.
The Original Dawgs are coming together to celebrate the "86" former Browns Anniversary. When Byner told some of the former Legends of the plan to reunite, the guys were thrilled to "huddle up" with the fellas again. The event will be on October 28th from 6-9pm in Brecksville with a one-of-a-kind cocktail hour starting at 6:00pm. Then the fans will experience a memorable tribute to the guys with a heartfelt speech from Earnest Byner, Author of the book, "Everybody Fumbles". Fans will then get a chance to interact with "The Original Dawgs" in a special Q/A Panel after.
The night features a Guess Who game where fans will be remembering their childhood heroes from the past and guessing "Who is Who" with a chance to win prizes. All fans will receive a memorable poster, and The Original Dawgs will have an autograph session as well as a Meet & Greet.
Gionino's Pizza, Voted Beacons Best four straight years in a row, will have an appetizer pizza bar with their most delicious pizza. Gionino's has been in business over 28 years with 45 locations throughout Ohio and South Carolina. Fans will also get to enjoy tastes from Heini Cheese and Bunker Hill Cheese, a family owned company since 1935 that uses all natural products. In fact "The Original Dawgs" has partnered up with Bunker Hill Cheese to produce specialty foods ("The Original Dawgs" food and snacks).
One example fans will get to taste is a delicious trail mix designed and created by Bunker Hill named "The Byner/Mack Snack Attack". The label features the logo of The Original Dawgs with the RB Duo, who recently celebrated their "30th year anniversary" where both guys rushed for over 1,000 yards in the same season.
For more information and to register for this event, visit the link: https://www.eventbrite.com/e/celebrate-the-86-browns-team-the-original-dawgs-tickets-28409942904
Part of the proceeds from the "The Original Dawgs" 30th Anniversary Reunion will go to "The Healing Dawgs" non-profit organization. For details and media availabilities, contact Sherry Cornett, Healing Dawgs Coordinator, sherry@sherrycornett.com.
Source: The Original Dawgs
Related Media
Additional Links