John Galt Solutions Positioned a Leader in the IDC MarketScape: Worldwide Holistic Supply Chain Planning 2022 Vendor Assessment
Press Release
•
Sep 27, 2022
Atlas Planning Platform Drives Continuous Intelligence Across the Multienterprise Supply Chain to Link Finance, Planning and Execution on a Single Platform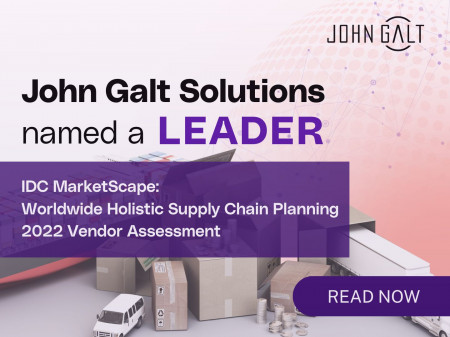 AUSTIN, Texas, September 27, 2022 (Newswire.com) - John Galt Solutions, automating supply chain planning to empower business leaders to make better decisions faster, today announced the company is named a Leader in the IDC MarketScape: Worldwide Holistic Supply Chain Planning 2022 Vendor Assessment (doc #US49578717, September 2022).
According to the report, "With a focus on quickly delivering tangible business outcomes and with a rich history of innovation, John Galt Solutions has been successful in establishing itself in delivering breadth and depth in supply chain functionality, innovations in ML and AI, and strong customer service to help companies create the right strategy based on where they are in their supply chain transformation."
The report assessed 17 key vendors with broad competencies in overall supply chain planning, based on a comprehensive framework and set of parameters expected to be most conducive to success in a given market. The report highlights six strengths of John Galt Solutions' Atlas Planning Platform, including:
Comprehensive end-to-end platform to connect data, decisions and operations.
Continuous intelligence to drive deeper insights to anticipate and respond faster across the supply chain.
An easy-to-use and highly collaborative platform for any role within the organization.
Powerful and practical machine learning and artificial intelligence capabilities with more than two decades of experience in global deployments.
Dynamic end-to-end supply chain visibility (manufacturing, transportation, suppliers, customers and more).
Easily develop real-time what-if scenarios based on risks, opportunities, and initiatives.
"Our recognition as a Leader in this IDC MarketScape reinstates our well-established position continuously delivering innovative solutions for companies to solve today's real-world challenges and to achieve transformational outcomes," said Alex Pradhan, product strategy leader, John Galt Solutions.
John Galt Solutions was also named a Leader in the IDC MarketScape: Worldwide Supply Chain Demand Planning 2022 Vendor Assessment (doc #US47619722, September 2022) and IDC MarketScape Supply Chain Supply Planning 2022 Vendor Assessment (doc #US47620822, September 2022).
About IDC MarketScape
IDC MarketScape vendor assessment model is designed to provide an overview of the competitive fitness of ICT (information and communications technology) suppliers in a given market. The research methodology utilizes a rigorous scoring methodology based on both qualitative and quantitative criteria that results in a single graphical illustration of each vendor's position within a given market. IDC MarketScape provides a clear framework in which the product and service offerings, capabilities and strategies, and current and future market success factors of IT and telecommunications vendors can be meaningfully compared. The framework also provides technology buyers with a 360-degree assessment of the strengths and weaknesses of current and prospective vendors.
About John Galt Solutions
More than ever, companies must be able to sense and respond to the dynamics of complex global supply chain performance, seize new opportunities, reduce costs, and drive profitability. John Galt's Atlas Planning Platform provides a comprehensive end-to-end supply chain planning solution with advanced analytics and machine learning to automate planning, break down business silos and deliver greater visibility. Atlas Planning Platform, a SaaS-based platform, transforms S&OP processes; demand, inventory, and replenishment; manufacturing planning and scheduling; distribution, allocation, and transportation planning; financial budget and sales forecasting. We partner closely with companies such as MARS, Continental Tire, Milwaukee Tool, Deschutes Brewery, Organic Valley, Netgear, and American Red Cross to empower planners to make better and faster decisions with greater confidence. To learn how John Galt Solutions can help you improve supply chain performance, visit johngalt.com.
Source: John Galt Solutions