Joe Washington Shares Home and Garden Tips for Spring on Tips on TV Blog
Simple Backyard DIY and Home Fix-It Tips for the Yard
Press Release
-
updated: Apr 11, 2019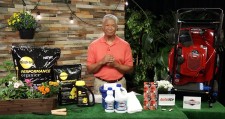 ATLANTA, April 11, 2019 (Newswire.com) - Warmer days and shorter nights mean it is time to get out gardening tools, tidy up the yard, and prepare the home for Spring and Summer use. In fact, creating a beautiful and comfortable outdoor living space has become a national obsession, according to Joe Washington, TV personality, home improvement expert and Master Gardener. Just in time to kick off the Spring entertainment season, Joe gives some affordable ideas to create or rejuvenate a backyard oasis, outdoor living room, or outdoor kitchen.
A GOOD PLACE TO START OUR SPRING LANDSCAPING
As Spring approaches many homeowners will be in the market for a new mower. A lot goes into consideration when choosing what will power that lawn mower. Today's gas-powered mowers can deliver twice the power and run three times longer than battery mowers. When it comes to average lifespan, gas-powered mowers last twice as long as battery-powered mowers. Check out some of the latest innovations in gas-powered mowers from Briggs and Stratton. "In-Start" allows for effortless starting with the push of a button. "Mow N' Stow" allows one to fold the mower and store it upright for a 70 percent smaller footprint. "Just Check and Add" eliminates seasonal oil changes so you never have to change the oil. The "Quiet Power Technology" makes the mowers up to 50 percent quieter, which allows work to be done at any time of day. For more information, visit www.BriggsandStratton.com.
LAWN MOWER MAINTENANCE
Lawn mower maintenance is crucial. A bad spark plug in a small-engine can cause difficult starts, poor engine performance, and increased fuel consumption. Any yard can easily be conquered using Autolite Xtreme Start Iridium spark plugs. Autolite is the best on the market for lawn and garden spark plugs, providing peak small-engine performance. Iridium provides 26 percent quicker, more consistent starts. They also provide better fuel efficiency and longer life compared to copper. Autolite covers a broader range of outdoor equipment than competitors. Time and money can be saved by checking spark plugs at the beginning of lawn care season. Changing spark plugs is a cost-effective way to achieve more consistent starts, and can help save with rebates and a Three-Year Limited Warranty. Update spark plugs on all small-engine equipment, and solve faulty starts without having to pay a mechanic. For more information, visit www.Autolite.com.
TIPS FOR GIVING OUTDOOR SPACES A SPRUCE UP
Reviving an outdoor space for warmer weather does not have to be a daunting task. Small things can make a big difference. A simple bleach solution with Clorox® Regular-Bleach2 can be used to treat mold, fungi and mildew on a number of items like flower pots, gardening shears, metal garden stakes and plastic patio furniture. Simply apply a solution of a half cup of Clorox® Regular-Bleach2 with 1 gallon of water and let sit for 5 minutes. After rinsing, the outdoor items will be good as new! Here is another tip; drop a fourth of a teaspoon of Clorox® Regular-Bleach2 for each quart of vase water with fresh flowers. Just a couple cents worth of bleach will help keep the water clear and the flowers smelling fresh longer. Clorox Bleach can be found nationwide at grocery and home care retailers and for more information, visit www.Clorox.com
SECRETS FOR MAKING GARDENS GROW BETTER
The secret to making a garden grow starts with feeding the plants. It is vital to give plants the proper nutrients to grow. This is where the new Miracle-Gro Performance Organics comes in handy. It delivers the Miracle-Gro results expected with all the necessary ingredients. The Performance Organics line gives consumers an organic gardening solution that achieves results on par with, or better than, conventional synthetic products. The line includes a container mix, in-ground soil, plant nutrition options and a garden feeder. These soils and plant foods feature a revolutionary blend of natural and organic materials and the soils contain a locally sourced, specially aged compost. This delivers up to twice the bounty for vegetables, flowers, and herbs, versus unfed plants. Adding this to a typical gardening routine will certainly ensure beautiful results. For more information, visit www.miraclegro.com
Contact: tipsontv@gmail.com
Source: Tips on TV
Share:
---
Categories: Advertising and Public Relations
Tags: Autolite, Briggs and Stratton, Clorox, Joe Washington, Lawn and Garden Month, Miracle-Gro
---