Joe Lewkowicz Showcases the Best Neighborhoods That North Tampa Has to Offer With Neighborhood Profile Videos
Press Release
•
Dec 3, 2015
Joe Lewkowicz showcases the best neighborhoods that North Tampa has to offer with remarkably clean neighborhood profile videos.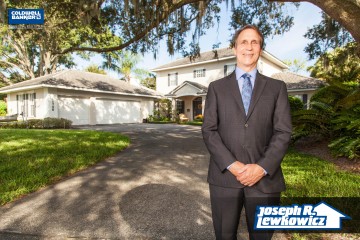 Tampa, Florida, December 3, 2015 (Newswire.com) - ​The neighborhood profile series, launched by Joe Lewkowicz, is exposing North Tampa neighborhoods like never before; The spotlight videos feature neighborhood descriptions, impressive homes and aerial videography in stunning HD quality!
The groundbreaking neighborhood profile videos is just the latest in a series of expose's that have been promoting the North Tampa lifestyle. Beginning with a showcase of one of Tampa's premiere Golf-Course neighborhoods, The Carrollwood Village and followed up with an epic tour of the prestigious Lake Magdalene Estates the neighborhood profile videos have caught people in awe stricken amazement and Carrollwood nostalgia. A recent comment by
"The instant I saw the aerial view of the Carrollwood Country Club, I knew I had to buy a house in the Villages or at least a townhouse within the Country Club proper."

Daniel Smith
Dawn Robertson on the North Tampa lifestyle Facebook page showed just that….
"Grew up in this area. Remember when fletcher was 2 lanes and as a little girl taking the 4 wheelers out where fletcher has expanded. boats on the lake. Playing in the water meeting new friends on the other side of the lake. Love this area!"
~Dawn Robertson
These neighborhood videos have been capturing buyers of all classes and types. Many people have found the videos to be a helpful tool when considering which neighborhood they would like to move into.
"The instant I saw the aerial view of the Carrollwood Country Club, I knew I had to buy a house in the Villages or at least a townhouse within the Country Club proper."
~Daniel Smith
To view the neighborhood profile videos visit www.JosephLewkowicz.com
Ramping up the video marketing and showcasing his prolific knowledge of North Tampa neighborhoods, Joe Lewkowicz commissioned six more videos that will highlight macro and micro regions of North Tampa. The latest in the series is a thorough exploration of the equestrian suburbs of Odessa and the conveniently located neighborhoods of Calusa Trace and Reflections. Odessa is known for its beautiful conservations and pocketed lake and pond views. These neighborhoods have long been sought-after by families looking to settle down in the wholesome and quiet country-like backdrop of Northwest Tampa.
Rumor has it that Belle Meade, Belle Glen, Hammock Woods and Van Dyke Farms will be the first neighborhoods that will be highlighted in the Odessa series. Although nothing has been confirmed, a representative of Joe's internet marketing team stated that "Joe really likes these neighborhoods and wants to focus his energy marketing these properties".
Previous clients of Joe Lewkowicz are excited for these videos to come out citing the amazing quality and aerial videography that was featured in the Carrollwood Village and Lake Magdalene videos.
"I can't wait to see how Reflections looks like from an aerial view", said one homeowner who wished to remain anonymous. Anyone whose driven down the well kempt roads of Reflections would understand how gorgeous the modern bungalow neighborhood must look from the sky.
Reflections earned its name because of it's multitude of scenic ponds that reflects the unique and interesting architecture that are situated on its banks.
With the popularity and forwardness of these neighborhood videos, many have asked Joe to highlight their neighborhoods. Although these inquiries have been taken into consideration, the ultimate decision will be made by the mastermind himself, Joe Lewkowicz. He's been coy to reveal what his next project will be but insists that his audience continues to followup with him on his exploration of North Tampa neighborhoods by visiting: https://josephlewkowicz.com/ .
For more information on the neighborhood profile videos please contact media relations liaison, Dana Blickensderfer at Info@iBossAdv.com.
About Joe Lewkowicz
With over 35+ years of experience, Joe has proven himself to be a prominent figure in the Tampa Bay Real Estate market. Selling thousands of homes throughout his career, Joe is known for his exceptional customer service, attention to detail, market-savviness and calculated decisions. Search for North Tampa FL homes for sale on the most up-to-date Real Estate MLS in Mid-Florida at: https://josephlewkowicz.com
Related Media
Tags
Additional Links