Joe Lewkowicz Holds August Livestream Conference Call on the Tampa Real Estate Market
Veteran realtor Joseph Lewkowicz has archived his next installment of his livestream conference calls where viewers can interact with him directly.
Press Release
-
updated: Aug 29, 2017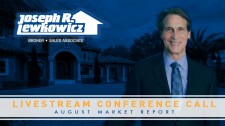 TAMPA, Fla., August 29, 2017 (Newswire.com) - Real estate is often seen as an industry that is too convoluted to try and understand. However, having a firm grasp of the market and key information about the space will help buyers purchase homes for the lowest price, and help sellers make the most during their transactions.
Regardless of whether or not a real estate agent is involved in the process, it is vital to know about the current state of the market, what types of properties will have the highest value in the future, and how to determine whether or not a home is worth investing in if you only intend to sell it again in the future.
Joseph Lewkowicz has been involved in the industry for over 40 years, and his experience is obvious when looking at his achievements; he has sold over 3,000 homes completely independently without the aid of a sales team, earning him a spot among Coldwell Banker's highest-ranking agents. Furthermore, he has been rated the top salesman in North Tampa for the past seven years, making him a powerful authority in the local market.
Joseph Lewkowicz has decided to share this knowledge with the public by offering livestream conference calls where viewers can ask relevant questions about the real estate industry that Joe will answer.
These livestreams take place on the second Thursday of every month at 10 AM EST and have consistently proven to be a worthwhile endeavor due to the level of interaction Joe receives from the public. Real estate professionals and new homebuyers alike have come to Joe with detailed queries about certain aspects of North Tampa real estate.
This month's livestream covered topics like how the market is currently performing and its projected performance in the future, strategies to determine what type of property is ideal for your lifestyle, and how to ensure that a homeowner is not misleading about the condition of the home.
In the case of the latter, Joe advises having a professional inspection conducted on any property that may be purchased in order to discern any property damage, remodeling efforts that have been made, and whether or not the owner has been honest about the previous condition of the home.
"Joe Lewkowicz is one of the most knowledgeable primary sources of real estate information for North Tampa, and anyone looking to become more involved in real estate would benefit greatly from taking advantage of his expertise."
The best way to ensure that real estate investments are successful is to be as informed as possible on the space. Joseph Lewkowicz strives to share as much knowledge as he can in order to prevent unwary buyers and sellers from losing money.
To view Tampa's Market Report for August 2017, visit https://www.youtube.com/watch?v=bRRyHW4PEOk
To learn more about Joe Lewkowicz or utilize his many valuable industry resources, please visit http://www.josephlewkowicz.com today!
For media or press inquiries, please contact media relations liaison, Dana Blickensderfer at Info@iBossAdv.com.
About Joe Lewkowicz
With over 40+ years of experience, Joe has proven himself to be a prominent figure in the Tampa Bay Real Estate market. Selling thousands of homes throughout his career, Joe is known for his exceptional customer service, attention to detail, market-savviness, and calculated decisions.  Search for North Tampa, FL homes for sale on the most up-to-date Real Estate MLS in Mid-Florida at http://www.josephlewkowicz.com
"No-One Works Harder To Sell Your Home!"  For more information visit: http://josephlewkowicz.com.
Source: Joe Lewkowicz
Share:
---
Categories: Real Estate, Lifestyles, Real Estate Investments
Tags: COLDWELL-BANKER, JOSEPH-LEWKOWICZ, LAKE-FULLER-ESTATES, LIVE-STREAM, NORTH-TAMPA-NEIGHBORHOODS, REAL-ESTATE-TAMPA, TAMPA-REAL-ESTATE
---