Jockey Being Family Foundation Supports Miriam's Heart
Press Release
•
updated: Aug 3, 2023
Local New Jersey Nonprofit Hosts the Back to School Bash for Foster and Adoptive Children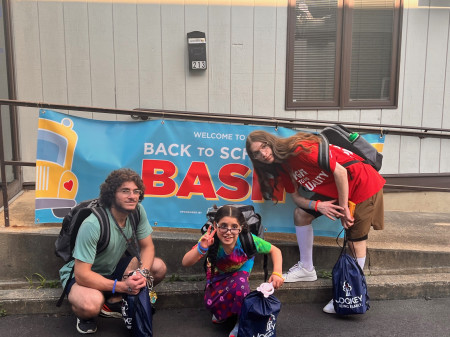 BOUND BROOK, N.J., August 1, 2023 (Newswire.com) - The Jockey Being Family Foundation recently awarded a grant to Miriam's Heart, to be a host site for the Back to School Bash on July 30. The Back to School Bash is a one-day event to support foster and adoptive children by providing backpacks stuffed with school supplies and offers a valuable opportunity for kids in the foster and adoption community to connect with others facing similar life experiences. It also served as a catalyst for the community to support foster and adoptive children and their families, encouraging individuals to volunteer with Miriam's Heart.
However, for the team at Miriam's Heart, the event holds a deeper significance beyond donated supplies. "This event is about kids feeling the love and support of their local community, giving them the dignity to choose and personalize their supplies, and fostering resilience in those who have endured trauma and loss," explains Elizabeth Occhipinti, co-founder of Miriam's Heart. Children enjoyed a free ice cream truck, face painting, games, and various family-friendly activities.
Jasmin Bethea, Director of Programs and Events at Miriam's Heart, expressed, "This is a chance to celebrate, educate, and empower families with a fun-filled and informative event as they prepare to head back to school for the upcoming year. We are profoundly grateful for the leadership and support of the Jockey Being Family Foundation, which has made this wonderful event a reality for foster and adoptive families in our community."
Jake McGhee, VP and Chief Philanthropy Officer at Jockey, expressed his excitement about the event, saying, "What excites us most is that many of the host sites were able to create lasting relationships and continue to support foster and adoptive families on an ongoing basis."
Miriam's Heart offers a variety of programs, events, grants, and mentoring to support kids and families. Through partnerships with local organizations and churches, Miriam's Heart also provides resources for vulnerable kids and families and advocates for law and policy changes to ensure the safety of children in collaboration with the Child Advocacy Association of New Jersey (CAANJ).
For more information on upcoming opportunities to support Miriam's Heart by sponsoring the annual fundraising Gala this Oct. 12, 2023, visit MiriamsHeart.org/gala, and to learn more about how to give toward programs and events like these, visit MiriamsHeart.org/give.
*About Jockey Being Family Foundation:*
Jockey Being Family Foundation provides funding to nonprofit organizations, enabling them to provide critical post-adoption services on both local and national levels.
*About Miriam's Heart:*
Miriam's Heart is a New Jersey-based nonprofit that provides support and resources to children who have been adopted or in foster care and their families. Learn more at miriamsheart.org.
Source: Miriam's Heart