Jobs for Robots: Between Robocalypse and Robotopia
Press Release
•
updated: Feb 27, 2017
Top-ranked financial market futurist writes book about the future of work, automation, robotics, FinTech, e-commerce, and online education.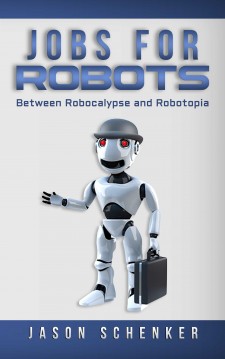 Austin, Texas, February 27, 2017 (Newswire.com) - Jason Schenker, the most accurate financial market forecaster and futurist in the world, has written a provocative new book, Jobs for Robots: Between Robocalypse and Robotopia. The book was officially released on February 27, 2017 by Prestige Professional Publishing.
​In Jobs for Robots, Schenker addresses the most critical topics for the future of work, including automation, robotics, FinTech, e-commerce, and online education. ​
Schenker offers a critical examination of the downside risks and upside opportunities for the future of work presented by robotics and automation. He also discusses the greatest challenges required to ensure that society benefits, as we are propelled from the information age into the automation age.​
​​​Bloomberg News has ranked Schenker one of the most accurate forecasters in the world in 35 different categories since 2011, including #1 in the world in 20 categories for his forecasts of the Euro, the Pound, the Swiss Franc, crude oil prices, natural gas prices, gold prices, industrial metals prices, agricultural commodity prices, and U.S. non-farm payrolls.
​Schenker has written three #1 Best Sellers: Commodity Prices 101, Recession-Proof, and Electing Recession. He is also a Columnist for Bloomberg View and Bloomberg Prophets.
Jobs for Robots has been featured on Bloomberg Radio.
Media Contact:
Jason Schenker​
+1 512 592 8905
jasonschenker@prestigeeconomics.com
Source: Prestige Professional Publishing
Related Media