Jive Aces Join the Mayor of Croydon for a Modern-Day 'Signing in the Rain'
Press Release
•
Apr 4, 2016
Drug prevention campaign gets a boost from Croydon Mayor Councillor Patricia Hay-Justice, who joined the "Mayors Against Drugs" initiative supported by the Church of Scientology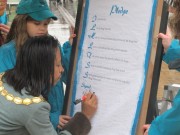 London, UK, April 4, 2016 (Newswire.com) - Britain's Got Talent semi-finalists The Jive Aces didn't permit the rain to stop their lunchtime antics when they promoted drug-free living at Croydon town centre. They were joined by Croydon Mayor Councillor Patricia Hay-Justice who sang along and signed a Drug-Free Pledge, encouraging young people to steer clear of drugs.
The Croydon mayor joins the mayors of East Grinstead, Bromley, Haywards Heath and Burgess Hill in her support of the recently launched "Mayors Against Drugs" initiative.
The Jive Aces, who famously put grumpy Simon Cowell "in a good mood" with their jived-up version of the Disney classic "I Want to Be Like You," stopped in Croydon for a free performance to promote the Truth About Drugs campaign.
The Truth About Drugs materials provide the facts about drugs and alcohol so young people can make informed choices. Experience shows that when young people know the facts they choose to say no to drugs.
Local residents and shoppers were cheered on the rainy Saturday afternoon by the Jive Aces' energetic renditions of such classics as "Bring Me Sunshine," an upbeat version of the much-loved song from Morecambe and Wise. Their YouTube video of the song has received more than 2.5 million hits.
Drug-Free London volunteers wearing their signature teal blue jackets distributed over 1,000 booklets to. The booklets provide the truth about how drugs so a person can make up his own mind on the subject.
The Jive Aces credit drug-free living as a major factor in the success and longevity of the band. Lead singer Ian Clarkson said, "Drugs are such a large problem in society these days. There isn't a town in England that doesn't suffer from them. Some say to just be careful in taking drugs. We say get educated so you know not to touch them at all. Drugs are dangerous and harmful, not only to the user but also to their families, friends and associates. We hope our drug-free performance shows people you can be happy without taking drugs. We can all learn from the mistakes of talented artists like Amy Winehouse and give young people the truth—that drugs are not 'cool.'"
The Truth About Drugs campaign is supported by the Church of Scientology. For more information on the campaign visit:www.drugfreeworld.org or Facebook: drugfreelondon.
Related Media
Additional Links