Jimmy Mondal Joins Holodeck Media as Executive Producer and Host
Press Release
•
updated: Jul 20, 2021
Holodeck Media to develop new content for the rapidly evolving gaming metaverse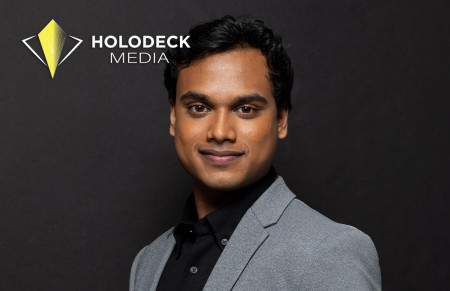 NEW YORK, July 20, 2021 (Newswire.com) - Today, Paul Dawalibi, President and CEO of Holodeck Media, announced the appointment of Jimmy Mondal as Executive Producer and Host for its new lineup of esports and gaming content. Jimmy is based in New York City and will be working from Holodeck Media's state-of-the-art studio. Jimmy will be leading the creation of new content focused on gaming, esports and the rapidly evolving world of the Metaverse, a future iteration of the internet, made up of persistent, shared virtual spaces linked into a perceived virtual universe.
Jimmy has competed at the highest level across multiple first-person shooter titles, creating a great segue for his career into providing play-by-play and color commentary for teams competing in the largest established leagues globally. He has previously hosted and produced Cheddar Esports, a live, daily, esports show that reached millions and focused on highlighting the community, culture, and competition within esports. More recently, he hosted "Speedrun", a production by Polygon, Vox Media Studios, and Quibi. He is a digital trailblazer who is fascinated with the power of gaming and esports with thoughtful explorations of the culture surrounding play.
"I am delighted that Jimmy will be joining the Holodeck Media Team to drive our new content initiatives. Jimmy has a proven track record of success developing exciting and insightful gaming content that appeals to a wide audience," commented Paul Dawalibi. "The gaming world is coming to a tipping point with the advent of the Metaverse. It will fundamentally change how we work, play and interact with each other in the future, and we will be leading the Metaverse conversation," added Mr. Dawalibi.
"The intersection of gaming and culture is a subject that I am passionate about. Society is evolving, and it's time to create content that reflects how media is actually being consumed by a new generation of gamers. I will strive to explore the emerging Metaverse and how it will change the real world and impact our culture and society," said Jimmy Mondal.
ABOUT HOLODECK MEDIA
Holodeck Media is focused on creating unique content and IP targeted at esports and gaming audiences. We believe that gaming is fundamentally changing the entertainment industry and the world. We are a group of passionate gamers, business people and media professionals that are dedicated to exploring and leading that change. The Company currently produces the leading gaming industry business content through a combination of podcasts, live-streams, videos, articles, blogs and newsletters.
The Company is a wholly owned subsidiary of Holodeck Ventures, a gaming and esports holding company, and maintains a studio and offices in Manhattan, New York.
Source: Holodeck Media