Jersey City Celebrates Grand Re-Opening of Catherine Todd Senior Living Center
Press Release
•
updated: Jun 22, 2017
Obsolete Public Housing High-Rise is 'Reborn' as High-Quality Affordable Housing for Senior Citizens in a Unique Substantial Rehabilitation Effort Led by Michaels Development Company and the Jersey City Housing Authority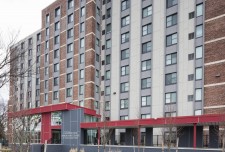 Jersey City, NJ, June 22, 2017 (Newswire.com) - ​​​​​Jersey City officials, including Mayor Steven Fulop, joined executives of the Michaels Development Company (MDC) and the Jersey City Housing Authority, along with residents and other honored guests to celebrate the grand reopening of Catherine Todd Senior Living Center. Once an obsolete public housing high-rise, Catherine Todd has been completely modernized both inside and out and its completion is the first milestone in the ongoing revitalization of the former Montgomery Gardens.
"The Catherine Todd Senior Living Center was a unique undertaking because it involved the gut rehabilitation of an existing high-rise building in which only the structure itself was preserved," said Michaels Development Company's Senior Vice President Joel Silver, who served as the project's lead developer. "The entire interior of the Senior Living Center was re-purposed to provide affordable housing for elderly residents enhanced by community amenities for the provision of services that promote independent living," Silver said.
"It is our understanding that few public housing high-rise towers have been re-purposed in this fashion."

Joel Silver, Senior Vice President, Michaels Development Co.
Guests at the event included family members of Catherine Todd, for whom the building is named. The ceremony included the unveiling of a spectacular mosaic tile mural of Ms. Todd, which adorns the building's community space. Ms. Todd was a lifelong resident of Montgomery Gardens and a staunch supporter of public housing and residents' rights. She worked tirelessly as a community activist for more than 40 years on behalf of the residents of Montgomery Gardens and the wider neighborhood.
Noting the great legacy of Ms. Todd, Michaels Development Company President Gary Buechler said that MDC is proud of the strong partnership it has with the Jersey City Housing Authority. "It's not just about the housing," Buechler said, "It's about being able to give people the opportunity to live their lives to the fullest."
The $24 million gut rehab of Catherine Todd transformed the obsolete tower, which had stood vacant for years, into modern sustainable housing, conforming to the high standards of Enterprise Green Communities and the accessibility requirements of an elderly resident population. In its former life, Catherine Todd was a high-rise for families.
"It is our understanding that few public housing high-rise towers have been re-purposed in this fashion," said Silver, who noted that the newly created community space and the full slate of supportive services that are now in place will allow Catherine Todd's residents to age in place.
The new Senior Living Center offers 68 modern apartments for those aged 62 and over who earn less than 60 percent of the area's median income. Five of the apartments are reserved for senior citizens who were formerly homeless. Amenities include 5,000 square feet of community and recreational space.
Michaels Development's sister company, Interstate Realty Management (IRM), will provide property management services at Catherine Todd, ensuring that the community remains a quality asset to the neighborhood for years to come. Supportive services will be provided through IRM's strategic partnership with the non-profit organization Better Tomorrows, including case management, linkages to health care, transportation and legal services, and the provision of educational and financial literacy programs. All services are geared to enabling residents to age in place.
Financing for Catherine Todd's transformation included $12.7 million in private equity raised through the sale of federal Low Income Housing Tax Credits, allocated by the New Jersey Housing Mortgage Finance Agency. NJHMFA also provided $9.4 million in construction and permanent financing through its Multifamily Conduit Bond Program. In addition, the project benefited from $5.7 million in federal Community Development Block Grant (CDBG) Disaster Recovery funds through the HMFA's Fund for Restoration of Multifamily Housing. The Jersey City Housing Authority contributed $576,350. Bank of America invested in the tax credits, which were syndicated by Riverside Capital. Citibank purchased the short term and long term bonds and is acting as the permanent lender.
Prestige Building Company served as the General Contractor. WRT was the architect.
About The Michaels Organization
Michaels Development Co., Interstate Realty Management, and Prestige Building Company are independent operating companies of The Michaels Organization, a family of companies dedicated to excellence in affordable, mixed-finance, military and student housing. Serving more than 135,000 residents in 370 communities in 35 states, D.C., and the U.S. Virgin Islands, The Michaels Organization is a national leader in residential real estate with full-service capabilities in development, property management, construction, and mortgage finance.
Source: The Michaels Organization
Related Media