Jennifer Weatherhead Shares Ideas for Planning a Vacation on TipsOnTV
Press Release
•
Dec 21, 2021
One of the Most Interesting Travel Experts Shares Her Favorite Cool Destinations and Ideas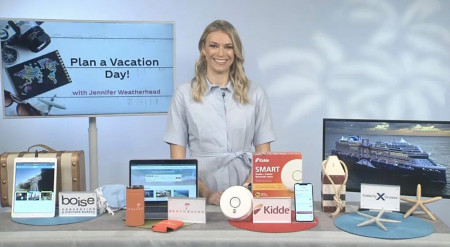 ATLANTA, December 21, 2021 (Newswire.com) - National Plan for Vacation Day is recognized in January. It provides a timely reminder that it is important to get a head start on scheduling a dream vacation to guarantee great adventures. Travel expert Jennifer Weatherhead is encouraging families to take a few minutes during their holiday visit to plan their next family trip. Weatherhead shares a plan for a great vacation.
FAVORITE DESTINATIONS
Boise is the capital of Idaho and continues to surprise visitors with its dynamic mix of urban amenities, cultural gems, and astonishing outdoor opportunities. The city has successfully combined the best of the Pacific Northwest. Visitors can enjoy the vibrant multi-cultural influences like the Basque food, wine, and history to outdoor activities like the Boise River running through downtown. It has a 25-mile green belt that runs along both sides. There are 104 parks, more than 200 miles of trails for hikers, 40 wineries, plus 20 craft breweries, and the second-largest ski area in the state. It truly is perfect for a getaway. For more information, visit www.boise.org
POPULAR VACATION OPTIONS
Celebrity Cruises has 14 award-winning luxury ships. Accommodations are designed by world-renowned architects, designers and it sails to 300 incredible destinations on all seven continents. They have some amazing offers to take advantage of right now. A Celebrity Cruises trip is also one of the safest vacations on the planet as they require vaccinations for everyone eligible and 100% of the crew is vaccinated. Savor up to 32 restaurants, cafes, bars, and lounges and enjoy wellness experiences that go well beyond The Spa, including Peloton and F45. For more information, visit www.celebritycruises.com
AN EXOTIC VACATION DESTINATION
Whether choosing to relax on a white-sandy beach of the Caribbean or exploring the black-volcanic sands of Hawaii, there is nothing quite like a beach vacation. With over 70 worldwide destinations to choose from, Beachbound.com offers endless beach experiences no matter what vacationers are looking for. Plus, they offer great all-inclusive vacation packages, making a trip stress-free. Book a beach vacation with BeachBound.com.
OTHER VACATION PLANNING TIPS
Make vacations as stress-free as possible with the help of Kidde's Smoke and Carbon Monoxide Alarm and Smartphone app. It allows homeowners safety from anywhere at any time. This is great for anyone planning a vacation, as it gives real-time mobile notifications so there is no stress about home safety. The app is available in the Google and Apple stores and is compatible with Google Assistant and Amazon Alexa. The device is available at The Home Depot for just under $90. For more information, visit www.kidde.com
contact: tipsontv@gmail.com
Source: TipsOnTV