Jennifer Tardy Consulting Publishes the LEQ - Lived Experience Intelligence™ Report
Press Release
•
Feb 22, 2022
An introduction to untapped intelligence, and the important implications of this transformational perspective for both individuals and organizations.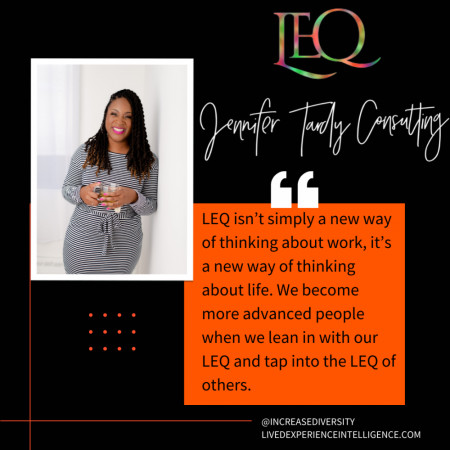 BOWIE, Md., February 22, 2022 (Newswire.com) - Jennifer Tardy Consulting, an internationally known, award-winning diversity recruitment training and consulting firm located in Maryland, today announced the publication of the LEQ - Lived Experience Intelligence™ report, which is an exciting new concept that establishes the correlation between using the LEQ model in hiring and promotion decisions and truly leveraging an untapped intelligence necessary to take the workplace to the next level.
The firm defines LEQ as the extent to which one exercises the knowledge, skills, and abilities that one has developed through life events, applying, and expressing them in one's thinking and actions, and using them as an asset. Through the LEQ concept, the firm has been working toward answering the all-time million-dollar question. "If I have two top candidates, do I hire based on diversity?" Leaders too often think that people should be hired based on characteristics like race, sexual orientation, and gender. Hiring based on protected characteristics is illegal and leads to negative downstream implications for the person hired, such as others questioning whether they were truly qualified. Furthermore, how one identifies is not the crucial element that creates such great outcomes for employers. It is the lived experiences generated by how one identifies that creates new, unique perspectives and considerations—an intelligence. Leveraging these perspectives and considerations is what creates the value. Hiring based on LEQ is one way to make inclusive recruiting more systematic and to move the needle to make diversity recruiting, simply recruiting.
"In developing LEQ, I knew that if we wanted to speed the momentum of increasing diversity to create more well-represented workplaces, we had to move beyond talking about the benefits of diversity and start unpacking (and valuing) the "it-factor" to companies that are well represented among untapped groups. It is no longer a question of whether an employer values diversity. It is now a question of 'do you understand the power of LEQ?' If you truly understood the impacts and benefits of collective organizational LEQ, your workplace would be clamoring for opportunities to increase diversity." - Jenn Tardy
"The benefits of increasing diversity have been spotlighted, helping to move the needle from a moral imperative to an operating and sustainability imperative. But it is time for us to take the conversation further. No one has tackled this question before, in this way: What is it about increasing diversity that makes it so beneficial to workplaces? The answer is LEQ. We encourage organizations to continue moving the needle toward increasing diversity within their workplace so they can continue to find unmatched competitive advantages from the increased collective spectrum of LEQ throughout their organization." - Jenn Tardy.
The LEQ - Lived Experience Intelligence™ report covers:
Defining Lived Experience Intelligence (LEI) and Lived Experience Intelligence (LEQ)
LEQ Explained: Learned Experiences versus Lived Experienced
LEQ, White Privilege and Diversity of Thought
Notable Quotients: IQ, EQ, CQ, AQ, and LEQ
Integrating LEQ: Valuing LEQ Requires Inclusion
The Full Employee Life Cycle and LEQ
The LEQ Journey
And more.
Organizations can download a free copy of the LEQ - Lived Experience Intelligence paper by visiting http://www.livedexperienceintelligence.com/.
Source: Jennifer Tardy Consulting