Jeanne Slupik to Work on Growth and Public Safety if Elected County Commissioner Pct. 4 for Comal County
Jeanne Slupik has announced running for Comal County Commissioner PCT 4 against incumbent Jen Crownover
Press Release
-
updated: Jan 22, 2018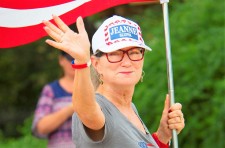 NEW BRAUNFELS, Texas, January 22, 2018 (Newswire.com) - Jeanne Slupik has announced running for Comal County Commissioner PCT 4 on September 22, 2017. Slupik is challenging the incumbent commissioner of PCT 4, and one other opponent.  In an overwhelming request to run by local constituents, Jeanne Slupik decided it was time for change and took the challenge. With the issues facing Comal County and with it being one of the fastest growing counties in the State of Texas, strong conservative leadership is vital to the future of Comal County and its residents.
"What Comal County PCT 4 needs is a leader with experience and integrity. We are growing fast and we need smart decisions with a focus on growth and growth management," says one local resident. Slupik is a veteran resident of the Comal area. She and her family moved to the county nearly 20 years ago and immediately engaged in local community organizations. Over the years, she has become increasingly interested and actively involved in county politics. It was thirteen years ago when she gained a true mentor in Jan Kennady (the immediate past commissioner of Comal County Precinct 4). For those who knew the late Jan Kennady, a force to be reckoned with, was admired and loved by many. Kennady was a staunch supporter of Jeanne Slupik and  it was through Kennady's encouragement and leadership that Jeanne began serving on political action committees and became more involved in local government issues.
In 2011, Jeanne Slupik was asked to serve on the court's long-range planning committee, the first ever for Comal County. This document provided valuable insight on county issues such as responsibilities, restrictions, decisions and functions that the court must balance while managing the county. From 2012 to 2013, Jeanne served on the board which spearheaded and recommended to hire a Public Information Officer. This afforded the constituents of Comal one resource of information to highlight county accomplishments. It was a critical move to provide not only accountability for our local leadership but also a new form of communication to the community.
Jeanne comes from a military family which allows her to bring a unique perspective to governmental issues, accountability and responsibility. She is known for taking a hands-on approach when she is involved in organizations. Comal County citizens are concerned about public safety, infrastructure, water and the economy. Jeanne plans to focus on helping the county make the right decisions that will ultimately provide a safer, stronger region for growth.
Many in the community have felt that their voice has not been heard under the current administration. Jeanne says she plans to change that. She stated, "My door will be open, my cell phone will be on, and I will always be available to you – to hear your concerns and views on the issues. I will strive to bring teamwork to all we do at Commissioners Court, and to work with you to make Comal County an even better place to live, work, and raise your family."
Over the last month, Jeanne and her campaign team have been out block walking, attending functions and talking to community patrons about the issues that concern them most. Jeanne stated in a recent interview, "I am not waiting till the election to make a difference. I have brought community concerns to the court, to the sheriff and the county engineer. For example, residents in the River Chase subdivision requested assistance with the merge lane from Hoffman Lane to FM 306 and it has been lengthened. In addition, The Point Subdivision has a major safety issue with the current location of the mail box cluster and it will be moved to a safer, better area with the necessary easement. I have brought other issues to the sheriff and county engineer . Constituents know I have their interest at heart."
Jeanne says she wants to work hard for the citizens of PCT. 4. With over 18 years serving Comal County and 13 years heavily engaged in local politics, Jeanne has the right experience at the right time that can help Comal County face its growing pains. For Comal PCT 4 residents, it's important to know that the last day to register is February 5th. You can begin early voting on the 20th of February through March 2nd. The final day to cast your vote is the primary election on March 6th, 2018. Go to www.co.comal.tx.us/Elections for more Comal County voter registration and location information.
To learn more about Jeanne Slupik and her agenda if elected as Comal County Commissioner of PCT. 4, please go to: www.votejeanne.com or write info@votejeanne.com to ask questions. Look to the Vote for Jeanne Facebook page to learn more about upcoming events and local involvement.
Jeanne is a retired Lt. Col. Army Officer and Desert Storm Veteran specializing in tactical and strategic communications. She culminated her career commanding a tactical battalion in Germany with responsibility for over 500 personnel. She is a former local small business owner and has served the Comal County through various boards and local community committees for over 18 years. She has been actively engaged in local politics for over 13 years. She is a conservative Republican candidate that is smart, sensible, and steadfast. Signs and billboards for the Jeanne Slupik campaign are up around the area. Jeanne is asking for your support and your vote. #VoteJeanne
Source: Jeanne Slupik Political Campaign
Share:
---
Categories: Politics, County News, Local News
Tags: Comal County Commissioner, Jan Kennady, Jeanne Slupik, Jen Crownover
---