Jason Humble, CEO of Humble Capital Group, Prepares Startup Businesses to Thrive in the Ever-Evolving Modern World
Press Release
•
updated: Jun 7, 2018
Mr. Jason Humble, CEO of Humble Capital Group, helps consult in raising capital. Humble's life experiences developed his unique, entrepreneurial perspective.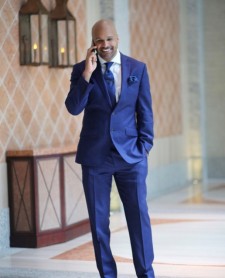 New York City, NY, June 7, 2018 (Newswire.com) - CEO of Humble Capital Consulting, Mr. Jason Humble, serves as a venture capital consultant for burgeoning businesses in New York and Miami.
Mr. Humble has guided numerous businesses over several years through moments of adversity towards well-rounded successes; adversity, personally and economically met, will either build or break potential. Mr. Humble places people and businesses in the best position possible to use adversity as a building, rather than stumbling, block.
The inspiration of starting a new business is not always accompanied by the initial capital required to produce, serve, and promote an innovative idea. Unless the entrepreneur is already wealthy, several new businesses are at the mercy of their own stop-and-go progress through building upon each sale after sinking out-of-pocket money into a business, the faceless opinion of a bank regarding a loan, or the stressful process of taking out a second mortgage. For more information, go to Humble Capital Group .
For new businesses wondering if venture capital is a good option, it is significant to point out funding is only one benefit of receiving backing from venture capital consulting.
Acquiring venture capital for the startup of a new business indicates an impressive business convinced experienced, entrepreneurial professionals to portion the wealth of their investors into a new product or service. With this association, a startup business receives the advice, expertise, and contacts a venture capital firm has cultivated for the development of smart businesses. Venture capital firms are well connected throughout the business community and their contacts and research provide immeasurable benefits to a startup. The active support of a venture consultant may prevent a promising entrepreneur from making harmful mistakes when it comes to legalities, tax, and personnel issues.
Mr. Jason Humble specializes in raising capital for Pre-IPO Intellectual Properties in various sectors. His personal experience has promoted a keen sense of discernment to see the potential in a new startup business. He works with companies involved in commodities, Forex, and cryptocurrency markets. Also, his focus of expertise includes consulting to raise capital for pharmaceutical companies, sports and entertainment consulting, technology and philanthropy.
Mr. Jason Humble, CEO of Humble Capital Group, offers startups more than funding; Humble's life experiences developed his unique, entrepreneurial perspective on building "something from nothing."
Born to a single parent never knowing his dad, Mr Humble's mom passed away at the age of 10, where he was then taken in by an amazing family in New Paltz NY. Humble was a dedicated studen​t and athlete during his high school years in New York. He pursued a college degree, graduating with honors, and went on to complete his MBA work in Business Entrepreneurship. Through his foundation of hard work and steadfast focus, Humble forged through a multifaceted career to include extensive work experience and personal study in Sales and Marketing with numerous Fortune 500 companies. He further demonstrates his dedication to fighting for success by serving on the board of the Precious Dreams Foundation which supports and empowers homeless and foster children.
His story has inspired businesses nationwide, who have invited Humble to numerous speaking engagements, to share what he has learned about what makes a business successful. His time spent working for highly profitable companies led to the marriage of his two passions: helping people survive and encouraging the growth of good businesses.
Contact Mr. Jason Humble to remove the obstacles in the path of your startup business by filling out his short online form at http://humblecapitalgroup.com/contact-us/.
Source: Humble Capital Group
Related Media