Jarman International Japan Report for October 2015
Press Release
•
updated: Oct 15, 2015
In Japan, the biggest acts of protest occured against the Japanese government this summer. Tens of thousands of people repeatedly gathered outside Japan's parliament building to demonstrate against the Liberal Democratic Party's (LDP) bill to allow Japanese armed forces to have a more pronounced presence in foreign military operations. One "Why" Behind Recent Protests.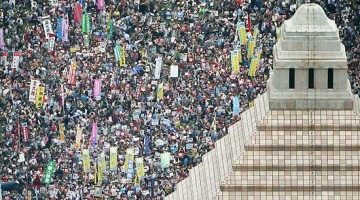 Tokyo, Japan, October 15, 2015 (Newswire.com) - ​Late August into early September saw some of the biggest acts of protest against the Japanese government in the country's history. Tens of thousands of people repeatedly gathered outside Japan's parliament building to demonstrate against the Liberal Democratic Party's (LDP) – then proposed – bill to allow Japanese armed forces to have a more pronounced presence in foreign military operations.
News channels broadcast images of masses of people in Tokyo flooding the streets in front of the parliament's main entrance as well as surrounding the building. A park nearby was also filled with protesters. Police were heavy in number but could not contain the protesters because of the sheer size of the crowd, a crowd whose faces ranged from young high school and university students to adults with their children, and members of the silver generation who know, first-hand, the ravages of war. When interviewed, it seemed that most people were upset at the WAY the bill was being pursued. They felt Japan's population was being left out of the process and in a country where community and consensus is so important, the PROCESS of how this event was unfolding betrayed what participants' considered democracy and how it should work.
The crowds sang songs, shouted slogans, and waved banners demanding the bill not pass. Protest organizers put the number of participants at 120,000, Japanese police estimated "only" 30,000 but whatever the actual figures, it was a shocking site in a Nation where unity and a sense of singularity is highly valued. We haven't witnessed anything like this since 1960 when Japan saw its biggest civil demonstration, when well over 125,000 protesters came together to rally against a Japan-US security treaty revision. We did sense a certain ire in the crowd but nothing dangerous or threatening to any serious extent. Even in demonstrations, Japan shows restraint and a intelligent approach to the why behind gathering in countless numbers on a hot summer night with kids in tow and despite police barracades and strong encouragement to desist.
People in the United States and Europe, where protests, strikes, and demonstrations are part of the culture of expression and active participation in government might not have seen the event as such a big deal – but in Japan it hints at a deeper sense of personal involvement in the larger decisions related to how this country will move forward in an age of internationalization, a burgeoning world population and diminishing natural resources.. This was a very big deal indeed. But why, exactly?
Well, to begin with, the Japanese people aren't fond of protest per se. Trains arrive on time, streets are clean and restaurant floors are spotless because of an ingrained propensity towards finding the mean, seeking consensus, and being a team player, and doing your part to keep things running smoothly.
So it was exceptionally significant that this summer's demonstrations, which were not restricted to Tokyo (there were over 300 across the country), were made up by such a diverse group of people ranging in all ages. One of the most vocal, the Students Emergency Action for Liberal Democracy (SEALDs), was immensely successful in shedding the typical image of university students as apolitical introverts. They protested passionately, yet peacefully, saying that LDP's new laws would be a violation of the country's constitution.
Ever since the end of a harrowing World War II 70 years ago, Japan has been a constant proponent for non-aggression and a strong constitution-based policy of PEACE. Japan is internationally renowned as one of the most peaceful nations in the world; one that consistently ranks in the top ten of the Global Peace Index – in 2015's listing, Japan ranks number eight. Of constant concern among so many in Japan is the possibility that Japan would follow suit and join other Nations in a "realist" view that Peace as Policy no longer applies to upheaval happening around the world. The bill that garnered so much protest, has since passed, and moves Japan away from focus on defense to a stance of "deterrence".
One of the protesters, university professor Mami Aoji stated, "If I were to describe Japan with one phrase, it would be 'a peaceful nation.' But, right now, the unimaginable, the unrealistic is happening, where peace is being destroyed. That fear is being cast upon this nation right now."
I interviewed and spoke with several people about their personal opinions on the matter. One of them, a second-generation Japanese who works for a media company specializing in Japanese customers, stated quite succinctly:
"I've never seen the non-aggressive Japanese people protest. I started realizing this from the time the Himitsu Hogo Hoan passed December 5th 2013. The Ampo Hoan (the bill that just passed) is what got the people worried, once the hoan was pushed through the diet without the citizens' voices being heard. Not just men but also mothers attended the demo worried that their children may one day be drafted.
My hope is that Japan will keep its non-aggressive culture. That we do not want to fight and that war is old. We are not enemies of our neighbor countries. Whenever I visit Korea the people welcome me with Korean BBQ and Makkori. The Chinese come to Japan to buy Japanese products because they trust in what the Japanese make.
I felt so much kindness from the Taiwanese when they supported Japan with unexpected amounts of charity when Japan suffered from the March 11th Tsunami.
I see that there are so many people out there that feel that there is a better way. War is old, out of date. Japanese citizens know that Japan will not be Japan if we become war with friendly countries. The stories brought down from our grandparents will vanish."
In the eyes of the demonstrators, it seems, a straw has finally broken the proverbial camel's back. "The Japanese people themselves tend to be anti-military leaning and strongly pacifist leaning. So they're not fond of anything that would get Japan involved in military adventures" said James Schoff, an expert on Japan at the Carnegie Endowment for International Peace in Washington, DC.
One cannot help but wonder if this summer's protests and public discontent signals the beginning of a new Japanese youth movement determined to make their wants and needs a government concern – as one of the more visible English banners seen during the demonstrations was: "This is what democracy looks like!" According to Koichi Nakano, a politics professor at Sophia University in Tokyo speaking about the aforementioned SEALDs, "(They) project the image that you can be normal and fashionable and political at the same time. They are galvanizing other age groups." We are excited to see a more participatory Japan, and with all the deep thinking that thrives in this country, we know Japan will find a perfect niche in the fabric of the world's ever changing and utterly challenging state of affairs. Go Japan!
FREE Tech Report from Nikkei BP
Interested in Japanese Automotive Technology? Here's a free report for you from Nikkei BP

As we've mentioned before, Nikkei BP is an excellent resource for technology info in Japan. Japanese, specialized, and full time tech writers at Nikkei BP are able to get views on the industry you wont find in any other publication. These for purchase reports are translated by tech specialists and samples are ready for your perusal. A free report on CFRTP is also available for you to test out the value of these great reports. Easily purchased via PayPal.
Our Entrepreneur this Month is HouseCare Founder Justin Clune by Petra Canan Trudell. Learn about how this brave, bold engineer from California is creating a support base for working parents and Airbnb owners in Japan here
JI CEO Ruth Marie Jarman begins 3rd Season on "Shigoto no Kiso Eigo"
JI CEO and best-selling author Ruth Marie Jarman's television show, "Shigoto no Kiso Eigo" (Fundamental English for Business), started up again at the end of September. At least twelve episodes were filmed, and this season the show tries to teach Japanese English-speakers how to speak longer sentences in a smooth, professional way. Ruth is pictured here with star Akinobu Shinoyama who is thrust into sudden English situations and has to think on his feet about how to express himself or explain something. Hiroto Onishi, Chiaki Holan and Ruth then help him with how to improve and make that business HAPPEN! Go Ruth!
H&R Roppongi: Special Deluxe Apartment Available from November 1st!
When you come to Tokyo for a longer stay, consider using one of H&R Roppongi's serviced apartments instead of a hotel room. The apartments come fully furnished and equipped and are available to rent for a minimum of one month.
As they have both hotel rooms and serviced apartments in their historic building, you can use their restaurant and take advantage of their multi-lingual staff, available 24/7. Enjoy the boutique design of H&R Roppongi's rooms and explore the city from their convenient location in Roppongi.
Available from November 1st
Serviced apartment room: Room#809, Deluxe Twin, 27.16 square meters (Studio type)
Room details: http://hr-roppongi.jp/en/sa_room/dx_twin/
Total rent: ¥320,000/month (no tax, utilities/internet/housekeeping included)
Note: Breakfast is not included in this rate but this rate has no tax applied. The apartment is not large, but it will be comfortable and you'll have a 24/7 bilingual concierge, use of the business lounge, etc. at your service. The entire building has free Wi-Fi service, too.
Concierge details at http://hotel-residence-roppongi.com/hotel-s/concierge-services/
Special Present from Hotel & Residence Roppongi's Coconoma Restaurant
Celebrating three full years of business, Hotel & Residence Roppongi is offering 20% off at the Coconoma Restaurant for up to four people. We have ten special gift certificates for the first ten people to respond to this mailing. Enjoy some wonderful food at Coconoma!
Enoshima Island Spa
Congratulations to Enoshima Island Spa (Enospa), who recently won the Crystal Awards 2015 "TOP 10" – an amazing feat considering they've made the Top 10 list four years in a row! The awards are given during the only exhibition specializing in the spa and wellness business in Japan, which aims to help establish the Japanese style spa, and the award winners are chosen by customers.
Pamper her with a Gift Certificate!
Any girl will love you for this! Do you have a special lady in Tokyo, Chiba, Saitama, or Kanagawa? Enoshima Island Spa offers you an opportunity to crazy pamper her! The celebrity journey spa package includes 180-minute Full Course Massage/treatment course, full course lunch or dinner at our ocean-view restaurant and overall entrance for full day use of Enoshima Island Spa facilities including hot spring onsen bath, pools, and sauna. You can purchase your special lady a gift certificate via PayPal. We at Jarman will help her set up her appointment when she has a day to spare for pure relaxation and the joy of warm baths, mineral filled onsen, beautiful ocean views and delicious cuisine. This is a holiday gift she will remember, along with your kindness, for a lifetime.
See for yourself here: http://enoshimaislandspa.com/enoshima-island-spa/gift-certificate-from-enospa
Photo© Kyodo/Reuters
Content by Lee Reeve
Related Media
Additional Links