Japanese Delegates Visit Electronic Recycling Center to Learn Best Practices for Responsible E-Waste Management
Press Release
-
May 20, 2016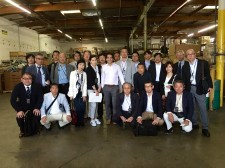 Tustin, CA, May 20, 2016 (Newswire.com) - Approximately half of the states in the U.S. do not dispose of electronics waste properly and very few recycling companies promote secure and environmentally responsible electronics recycling. Japanese delegates recently visited All Green Electronics Recycling to learn about the best practices for responsible recycling from an industry leader. The 35 delegates chose All Green because the innovative company uses revolutionary methods in data security while being good stewards of the environment. The guests were anxious to learn about a company-developed data wiping system called Data Annihilator and on-site hard drive shredding. All Green uses an exemplary approach to refurbishment to harvest parts for re-use while managing the various streams of e-waste.
Delegates from Japan were leaders in various recycling and metals companies, including REVACS Co, Ltd. which is a waste disposal service. The company strives to turn waste into a usable resource, similar to the philosophy of All Green. Also attending were the presidents of Azuma Metal Co, Ltd, Cleantech Inc. and K.K. Satis Factory International, among others. The goal of all those who visited All Green was learn from an industry expert. Arman Sadeghi, CEO of All Green hosted the tour and provided background information about the company and what it does. He explained that Videocon, a company in India, is stopping the operations that handle CRTs, and the biggest problem in the industry will be what to do with the glass from these electronics because they consist of lead. Legislation in California is currently dealing with this concern.
The delegates were invited to ask questions, which Arman readily answered. He explained his love of entrepreneurship and computers, which resulted in the founding of All Green. "I am most proud of creating jobs during the economic crisis," stated Arman. The guests wanted to know what makes All Green strong, to which Arman replied that it is because the company has its own trucks and are willing to accept almost all electronics. Because of the certification and data security the company provides, their customers consist of banks, hospitals and government agencies, which all have high needs for security.
As they discussed the details of All Green's success, Arman explained that transportation expenses are the highest costs because of the services being provided nationwide. Cell phone and tablet e-waste is growing while older electronics like tube TVs are becoming nonexistent. Because many companies aren't recycling properly, Arman educates others about the importance of creating a responsible recycling system through seminars and special talks. He provides his expertise on e-waste recycling that has been developed through his own success with All Green.
All Green Electronics Recycling was founded in 2008 and currently consists of 160 employees as a growing company. The source of income for the company comes from recycling and selling commodities, including data and equipment destruction and massive bulk e-waste disposal for businesses.
Source: http://www.allgreenrecycling.com/our-values/
Source: All Green Electronic Recycling
---
Categories: Electronics, Environmental and Waste Management, Recycling
Tags: E-Waste, Environment, Recycling
---