Jan Hartmann Joins Board of Directors of German-American Business Council of Boston
Press Release
•
updated: Jan 16, 2019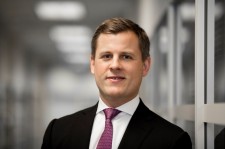 BOSTON, January 16, 2019 (Newswire.com) - The German-American Business Council of Boston, Inc. (GABC) is pleased to announce the addition of Jan Hartmann to its board of directors.
Jan Hartmann, M.D. is Vice President, Head of Medical Affairs at Haemonetics, a global leader in blood management solutions, where he has global responsibility for medical affairs, clinical development, academic partnerships, and medical safety. Previously, Dr. Hartmann spent nearly a decade at McKinsey & Company where he most recently served as Associate Partner in the Global Pharmaceuticals and Medical Device Practice. He received his M.D. from the Albert-Ludwigs-University of Freiburg in Germany. Additionally, Dr. Hartmann was a research scientist in the Department of Cell Biology at Yale University School of Medicine and a scholar of the German Academic Scholarship Foundation ("Studienstiftung").
"Jan is a welcome addition to the board of directors," said GABC president Bodo Liesenfeld. "His experience, extensive relationships and insights within the healthcare industry and beyond will be invaluable to the GABC in driving membership and increasing our regional visibility, reach and relevance."
Dr. Hartmann and his wife live in Brookline, MA where they raise their 3-year old daughter.
Current GABC board of directors are: President Bodo Liesenfeld, Liesenfeld International; Vice President Charles Cameron, Cooley LLP; Vice President Michael Haueisen, Siemens; Secretary Anneke Kramm, The Broad Institute; Treasurer Heri Sontgerath; nora systems; Erik Dilger, Deloitte; Susan Glovsky, Hamilton Brook Smith Reynolds; Jan Hartmann, Haemonetics; Helmut Landes, German Deputy Consul General; Uli Mittermaier, Appsulate; Angelo Moesslang, InGeneron; Cornelia Kroeger, German Accelerator Life Sciences.
About the German-American Business Council of Boston, Inc.
The German-American Business Council of Boston, Inc. (GABC) is the region's premier networking organization dedicated to encouraging and cultivating German-American business and trade. The GABC is a non-profit, member-based organization of companies, business people, and other professionals who connect and share knowledge through industry presentations, networking events, and social gatherings. GABC enjoys close ties to the German Consulate General Boston and is a member of the Global Business Alliance of New England. Visit www.gabc-boston.org for more information.
Source: German-American Business Council of Boston, Inc.
Additional Links