Jamie Lewis Is Launching Her JLEWbags Made in NY Handbag Collection
Press Release
•
Apr 18, 2016
Designed to be the perfect urban carryall bag, the stylish leather duffel bags and collapsible totes are large enough to carry just about everything, but stylish enough to be carried everywhere.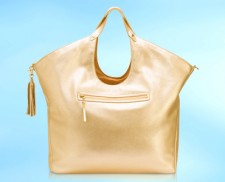 New York, NY, April 18, 2016 (Newswire.com) - Wall Street hedge funder and amateur boxer, Jamie Lewis, certainly didn't intend to start another career when she began designing stylish bags to carry her gloves and equipment to and from work, but that's usually how all good ideas originate. As the cliché goes: necessity is the mother of invention. In Lewis's case she knew that she was not alone in her hunt for a chic bag which could be taken from the gym to the boardroom and back again. She noticed yoga, CrossFit, boxing, MMA, spinning and other fitness enthusiasts struggled with the same problem – women everywhere from downtown to uptown were mixing stylish wardrobes and trendy handbags with tacky gym bags. When the Columbia MBA graduate exhausted all avenues in her pursuit to purchase such a bag, she decided to make her own. She went back to school in the evenings at FIT (Fashion Institute of Technology) for the sake of knowledge but once there became energized to start her own line of bags.
Frequent flyers will find that they are the perfect size for business or weekend trips, and fashionistas will love them for their style. Made in New York by experienced craftsmen using the high quality leather expected from designer bags, JLEW's collection is sure to please both the fashionable and the patriotic.
JLEW lives by the motto "do one thing a day that scares you" and loves to surround herself with #girlswithguts . . . join us on this journey as we share more about these awesome women.

Alex, S., Jericho Media
Early reviews of her collection have been positive. Women's Wear Daily identified JLEW bags among "ones to watch" at the Los Angeles Fall 2016 Contemporary Market and JLEW bags made the xoJohn list of "favorite sponsors" at the MTV Music Award Celebrity Lounge.
"I'm extremely grateful and excited to launch this collection, and feel incredibly fortunate to have received such positive reviews thus far." --Jamie Lewis
jamie@jlewbags.com
web: www.jlewbags.com
Follow: Instagram Facebook Twitter
Source: JLEWbags
Related Media