Jameela Jamil Presented With The Ehlers-Danlos Society Patient Advocate Award
The Ehlers-Danlos Society Nashville Award Ceremony
Press Release
-
updated: Aug 1, 2019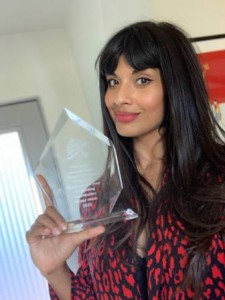 NASHVILLE, Tenn., August 1, 2019 (Newswire.com) - The Ehlers-Danlos Society was proud to present Jameela Jamil, British actor and activist, with the Patient Advocate of the Year award tonight at its Global Learning Conference in Nashville. 
Accepting the award via video link, Jameela thanked The Ehlers-Danlos Society for recognizing her with the award, and for welcoming her into their community:
"I am sorry it took me so long to speak publicly about my condition. I think I was afraid of being discriminated against, and I think I feel, I felt, discouraged by how little information there is about it publicly, and still how little research is being done around this condition.
"It's terrifying how many doctors still haven't heard of it, and it's been around for a very long time. So many people have it, and so many more people than we realize as they don't know the symptoms because the symptoms aren't being discussed on mass." 
"The Good Place" star confirmed she has Ehlers-Danlos syndrome (EDS) in a comment on Instagram in February of this year. "I hope to do my part to raise awareness and encourage more research, and more science, around discovering how we can support people of this community," stated Jameela in her acceptance video. 
The Ehlers-Danlos Society is grateful to Jameela for raising awareness of Ehlers-Danlos syndromes and hypermobility spectrum disorders and life with a chronic condition. 
About the Ehlers-Danlos syndromes and hypermobility spectrum disorders
The Ehlers-Danlos syndromes (EDS) are a group of 13 heritable connective tissue gene disorders that produce a spectrum of complex problems across multiple systems of the body. The physical characteristics that are common to all types of EDS include hypermobile joints, skin hyperextensibility, and tissue fragility. EDS is known to affect more than one in 5,000 men and women of every race and ethnicity.
Each person's case of Ehlers-Danlos syndrome is unique. Severity may range dramatically, even within families. Prognosis depends on the type of Ehlers-Danlos syndrome and the individual.
Hypermobile Ehlers-Danlos Syndrome (hEDS)
Hypermobile EDS (hEDS) typically begins with extreme joint hypermobility, joints which can stretch beyond normal limits; a propensity for sprains, strains, subluxations and dislocations; pain, often in lower limbs, and with fine motor or repetitive tasks; and easy fatigability.
Although each person with hEDS faces their own set of problems out of the wide range of possible effects, hEDS generally evolves. The initial "hypermobility" phase may involve the ability to hyperextend various body parts to extremes normally attributed to contortionists, gymnasts or elite dancers. Over time, the extreme hypermobility and connective tissue instability of hypermobile EDS may lead to permanent injuries. The "pain" phase involves widespread and worsening pain and headache; pelvic pain in women; and worsened fatigue. The "stiffness" phase seen in some adults and in the elderly results in general reduction in joint hypermobility; significant losses in functionality because of disabling pain and fatigue; and increased limitations, due to reduced muscle mass and weakness, prior injuries and arthritis.
While certain features of hypermobile EDS are not yet in the diagnostic criteria — as more research is needed to prove causation and the relationships between the hEDS and potential comorbidities — clinical descriptions of hEDS have expanded beyond joint hypermobility to include: chronic pain and fatigue, gastrointestinal disorders, neurological issues, dysautonomia, and anxiety. As of this time, hypermobile EDS has no identified distinctive cause.
Hypermobility Spectrum Disorders (HSD)
The hypermobility spectrum disorders (HSD) describe patients with symptomatic joint hypermobility not corresponding to other known conditions. The spectrum of HSD ranges from secondary musculoskeletal manifestations and a simplified categorization of genetic syndromes featuring joint hypermobility.
Vascular Ehlers-Danlos Syndrome (vEDS)
Life expectancy can be significantly shortened for those with the Vascular Ehlers-Danlos syndrome (vEDS) due to the potential for organ and/or blood vessel rupture. While significantly diminished life expectancy is not usually a factor in the other types, quality of life can be severely affected by chronic pain, disability, and myriad comorbidities. There are no cures for the Ehlers-Danlos syndromes, but there are treatments which address many symptoms and preventative measures that may help slow their progression.
ABOUT THE EHLERS-DANLOS SOCIETY
The Ehlers-Danlos Society is a global community of patients, caregivers, health care professionals, and supporters dedicated to saving and improving the lives of those affected by the Ehlers-Danlos syndromes. 
Headquartered in Baltimore, Maryland, The Ehlers-Danlos Society is a registered 501c3 nonprofit organization in the United States and a registered charity in the United Kingdom.
The Ehlers-Danlos Society staff team has now grown to 18 members of staff across the world, proudly working to provide global learning conferences, collaborative research and education initiatives, awareness campaigns, advocacy, community-building, and care for the EDS and HSD population.
Source: The Ehlers-Danlos Society
Share:
---
Categories: Arts and Entertainment
Tags: EDS, Ehlers-Danlos syndrome, Ehlers-Danlos syndromes, Healthcare, HSD, hypermobility spectrum disorders, Jameela Jamil, Nashville
---