JAM Social Music Creation App Just Hit 5 Million Registered Users
Hailed as the Instagram for Music, JAM app has just hit a major milestone in its audience development.
Press Release
-
updated: Jul 11, 2017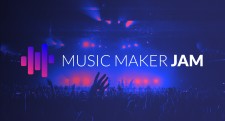 Berlin, Germany, July 11, 2017 (Newswire.com) - Berlin-based JAM, the company behind the Music Maker JAM app today announced that its user base grew to more than 5,000,000 over the last year, increasing by 5 times since the last milestone announcement of 1,000,000 users in September 2016, and an increase of 10 times since July 2016.
Led by CEO Rory Kenny & CPO Gabriel Hacker, JAM has enabled its community to publish over 3,000,000 music tracks by using its 'mobile studio' & access to 50,000 music samples. With 30% of its audience base in the USA and now counting India as its fastest growing market, JAM's global community produces 6,000 tracks per day.
JAM attributes its rapid success to its mobile-first technology & concept that is tailor-made for Millennials & Gen Z users who expect to not only consume music on their smartphones but also create, remix & post to an instant audience to gain social fame. Often described as the 'Instagram for music' - JAM rides the trend of young people hungry to personalize content & share on social media.
"All our growth so far has been organic," says Rory Kenny CEO of JAM - "the combination of strong demand, high app rating & a concept which resonates deeply with a new generation of music enthusiasts has provided us with huge momentum. We now have ample velocity to test exciting new features to expand appeal and go to the next level. We are on track to hit 10 million users by January 2018 - watch this space!''
JAM is a mobile focused, social music creation platform, on a mission to enable people anywhere to make amazing music & share instantly with the world. With deep music creation software at its core, JAM solves complex problems in music creation to enable anyone, regardless of skill level, to play, remix & produce radio quality tracks. By effectively democratizing the production toolkit, anyone with a basic smartphone can now release great music. In addition, by providing music samples at micro price levels, JAM provides a level playing field for anyone to prove their talent globally.
Beyond producing user-generated music, JAM is now collaborating with top artist talent globally – allowing their fans to come remix & post music in the JAM app exclusively. By truly going beyond the playlist, JAM is positioned to offer an alternative experience to the major music streaming players.
JAM just add music GmbH
Managing Directors: Rory Kenny, Gabriel Hacker
​Quedlinburger Str. 1 | 10589 Berlin | Germany
​Website: http://www.justaddmusic.net/
​Press Contact: press@justaddmusic.net
Source: JAM - just add music GmbH
---
Categories: Internet and Streaming Media, Music, Internet and e-Commerce, Mobile and Smart Phones, Venture Funding, Arts and Entertainment
Tags: 5 million users, generation Z, millennials, music app, social music creation, social platform
---
Related Files
Additional Links