Jack's Coffee and Vin Sur Vingt Wine Bars Merge to Form TenEleven Hospitality
Press Release
•
updated: Sep 12, 2022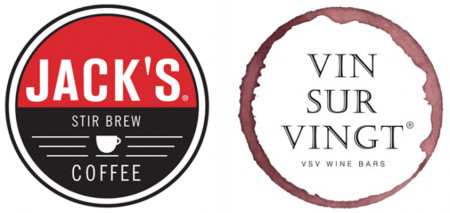 NEW YORK, September 12, 2022 (Newswire.com) - New York City based wine and coffee brands, Vin Sur Vingt Wine Bars and Jack's Stir Brew Coffee announce their merger and form new parent company, TenEleven Hospitality.
The merger creates a unique portfolio of seventeen locations consisting of six coffee shops (three in the pipeline) and eight wine bars under the new parent company, TenEleven Hospitality. By combining their leadership, operating experience, strategic relationships, and balance sheets, TenEleven Hospitality is poised to more efficiently scale their brick-and-mortar presence which will include additional markets in the Northeast and South as well as e-commerce with the upcoming launch of their wine and coffee club. The Company will be led by the founders and operators from VSV, Rakesh Chandiramani, Sebastien Auvet and Dilip Hari, who have also been responsible for managing Jack's Stir Brew Coffee since 2020. "Both VSV and Jack's have tremendous potential ahead for growth. By combining two beloved brands among the hottest categories in hospitality, both which have an omni-channel business model, the path forward is very exciting," Rakesh Chandiramani, CEO of TenEleven Hospitality, said in a statement.
The deal was led by Feenix Venture Partners, the majority owners of Jack's Stir Brew and a lender to VSV. In a statement by Keith Lee, CEO of Feenix, "The synergies between these businesses were clear and the VSV team has done an incredible job with Jack's Coffee, so the merger made obvious sense. We're really excited about where the team will take the business with this new combination."
Vin Sur Vingt Wine Bars
VSV was founded in 2011 as a neighborhood wine bar with its first location on 11th Street, New York. Their wine bars are designed in an intimate setting and to resemble the most authentic Bar a Vin in France. VSV currently operates eight units, which include wine bars and retail wine shops in NYC and Washington D.C. For more information, please visit: www.vsvwinebars.com
Jack's Stir Brew Coffee
Jack's Coffee was founded in 2003 by Jack Mazzola, as a neighborhood coffee shop with its first location on 10th Street, New York. Jack's goal was to create a sense of community by evoking childhood memories of the honest, family atmosphere of his father's business paired with the highest quality organic coffee and delicious baked goods. Jack's Stir Brew is a destination brand with six units with three in the pipeline across NYC and the Hamptons. For more information, please visit: www.jacksstirbrew.com
Feenix Venture Partners
Feenix is an alternative investment firm established in 2017 and headquartered in New York City. Feenix provides growth capital through debt and equity to small and medium sized businesses, primarily in the consumer sector including food & beverage, hospitality, direct-to-consumer e-commerce, SaaS, and other service businesses. For more information, please visit: www.feenixpartners.com
Media Contact:
Rakesh Chandiramani
(917) 584-2552
rakesh@vsvwinebars.com
Source: TenEleven Hospitality
Tags