Jack Scruggs Volunteering at Local Soup Kitchen
Press Release
-
updated: Dec 1, 2017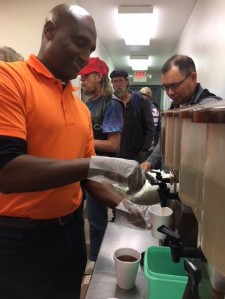 SAN ANGELO, Texas, December 1, 2017 (Newswire.com) - Thanksgiving has become America's favorite family holiday in recent years. But for Jack Scruggs, his day was filled with volunteering at the local soup kitchen to feed the homeless. Scruggs knows when he volunteers at Thanksgiving, he will be making a difference for the people who can't experience the holiday dinner on their own.
According to the National Alliance to End Homelessness, there are over 500,000 people experiencing homelessness. This report released in January 2014 and included families and individuals.
"It's unfortunate to see families struggle during the holiday season," says Scruggs. "I have been volunteering for years, and hope to come to the local soup kitchen next Thanksgiving."
There are also individuals down on their luck that look to the soup kitchen during holidays for a meal and social interaction. Scruggs loves to interact and provide normalcy to these people.
"I do anything the soup kitchen needs me to do," adds Scruggs. "Also, talking to other volunteers, they echo my thought, saying it makes a huge difference in their lives."
Additionally, these soup kitchens are always looking for volunteers. On Thanksgiving, the number of people who come to the kitchen almost triples than their weekly dinners. The more people that can help, the better.
All volunteers at these soup kitchens make a big difference in somebody's life. Many volunteers would agree that it is a rewarding experience making someone's life better.
Why Volunteer At The Soup Kitchen On Thanksgiving?
The simple answer to this question is it's a good thing to do for both the community and yourself. Making sure people have that Thanksgiving meal is incredibly vital to their well-being, both physically and mentally.
Volunteering at a soup kitchen does not just consist of handing out food. There are coordinating lines and helping people find seats. There are dishwashers and people cooking behind the scenes.
More importantly, there are vendors and community groups who come offer resources for assistance. From housing to regular food handouts, these groups want to expose their services on the busiest day of the soup kitchen.
"I'm always willing to do anything they need me to do," says Scruggs. "From handing out food to cleaning tables, I'll do it. I also enjoy volunteering during non-holiday days throughout the year."
Scruggs also has stated he hopes to bring more assistance companies to the soup kitchen. Also, he wants to bring bulk donations of items to pass out to people.
"No matter the situation, everyone needs help and handouts," Scruggs states. "I want to make the Thanksgiving special for everyone involved, from the volunteers to the people coming for a meal."
Volunteering On Thanksgiving Happens All Over Country
Citizens all over the country volunteer at soup kitchens every day. But on Thanksgiving, the number of volunteers wanting to help can be overwhelming.
"I've heard that some soup kitchens turn away volunteers because they are already fully staffed," says Scruggs. "I'm lucky that the local soup kitchen needs more people to help."
Soup kitchens and food pantries across the country always experience an influx of volunteers during the holiday season.
Government agencies and various foundations also are involved in helping, so the kitchen can become crowded. But the help is always appreciated and not taken for granted.
In some years, these soup kitchens are looking for volunteers, and some years they are turning away potential volunteers. It just depends on the year.
"Before leaving for the day, I always make sure to let them know I'll be back soon," proclaims Scruggs. "I want to make sure my name is on the volunteer list for the next holiday, which is Christmas."
To learn more about Jack Scruggs, please click here.
Media Contact:
​Eric Blankenship
​Eric@Netreputation.com
786-332-6554
Source: Web Presence, LLC
Share:
---
Categories: Hospitality, Local News, Charitable Contributions
Tags: Jack Scruggs, Jack Scruggs San Angelo, Jack Scruggs Texas
---