Jack Scruggs Participates in Successful Toys for Tots Holiday Celebration Event
Press Release
-
updated: Dec 26, 2017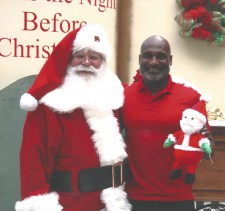 SAN ANGELO, Texas, December 26, 2017 (Newswire.com) - With the holiday season upon us, people and organizations are holding events in hopes of raising money or items for great causes. Jack Scruggs knew the importance of these gatherings and participated in two earlier this month.
The Mighty Mighty Bobcat Band and The San Angelo Central High School hosted both of the events earlier in December. Both ceremonies, attended by Scruggs, were benefiting the United States Marine Corps' Toys for Tots program.
The mission of the U.S. Marine Corps Reserves Toys for Tots program is to collect brand-new, unwrapped toys through October, November, and December each year. These toys are used as Christmas gifts to less fortunate children in various cities across the country.
"The Marine Corps does a great job in promoting the event and collecting hundreds of toys each year," says Scruggs. "It was a great sensation being able to assist and see people donating."
Each attendee brought a new, unwrapped toy or stuffed animals to these events. Representatives from the U.S. Marine Corps were on hand to collect these items. Each gathering had its unique theme and features.
On Tuesday, Dec. 5, The CHS Band played classic Christmas hits for attendees to stroll down Christmas lane.
Then, on Sunday, Dec. 10, The Bobcat Band performed a Christmas concert at the Central High School Auditorium. Again, attendees were encouraged to bring a new, unwrapped toy or item.
All toys donated ranged for children in the age range of three to 18 years old for both boys and girls.
The Christmas at CHS and the winner concert drives were organized and run by CHS Key Club Leader, Elizabeth Jost, and the Bobcat Band. Each item collected stayed in the San Angelo area and distributed to less fortunate children in the community.
"So many people came out to these events with one goal in mind," explains Scruggs. "That one goal was to help children in need during the holidays. Kids around the area were given a hopeful Christmas because of other residents in the community."
The Toys for Tots program received and distributed 18 million toys to seven million less fortunate children in the past, according to their website. The program has allowed children to experience the joys of Christmas and receive a message of hope.
Also, this useful program takes place in all 50 states, the District of Columbia, Puerto Rico, and the Virgin Islands.
In 1947 Los Angeles, the efforts of Toys for Tots began with U.S. Marine Corps Major Bill Hendricks and a number of Marine Reservists collecting and giving over five-thousand toys to needy children for Christmas. By 1848, the program expanded became a nationwide campaign.
"The history of this charity spans decades," adds Scruggs. "Even if the program acquired one toy, that's one child having a great Christmas. It's incredible that so many children will have a hopeful Christmas each year with millions of donations."
Scruggs was able to get on the volunteer list in the fall to assist with the toy collection and toy sorting. The volunteers also help out with live events, including the holiday celebration style gatherings.
Like many volunteers, Scruggs plans on helping out each holiday season. While the events differ each with year with a different organization hosting, the volunteers stay the same.
"I talked to some volunteers who have helped out in the area for decades," says Scruggs. "It's become a holiday tradition to give back as much as they can. Helping children during the Christmas season is fulfilling. Also, it assists so many families who cannot afford gifts for their children."
To find more information about Toys for Tots and how you can volunteer for these type of events, visit the Central High School's website to see where you can drop off your donation.
Source: Web Presence, LLC
Share:
---
Categories: Lifestyles, Alternative Lifestyles, Charitable Contributions
Tags: Jack Scruggs, Jack Scruggs San Angelo, Jack Scruggs Texas
---