Ivan Kamaras, Star of Ruben Brandt, Collector - Man Behind the Voice
Ivan Kamara's voice of Ruben Brandt​ in Sony Pictures Classics animated art-heist shares insights on acclaimed Hungarian feature that elevates both genre and relationship to art.
Press Release
-
updated: Feb 19, 2019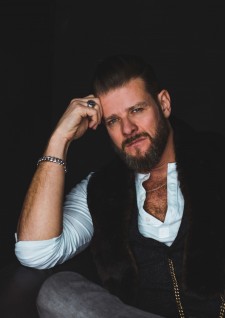 LOS ANGELES, February 19, 2019 (Newswire.com) - "Art is a key to the troubles of the mind," proclaims Dr. Ruben Brandt. It could also be the motto of Ivan Kamaras' life, the Hungarian-born star of "Ruben Brandt, Collector."
Ivan Kamaras is the star voice behind Sony Pictures Classics English-language release of Hungary's "Ruben Brandt, Collector," a genre-bending art-heist indie that is making waves. Mostly hand-drawn, this debut feature film is the six-year opus of Budapest visual artist Milorad Krstic. So original and eye-popping is this high-octane caper that Peter Travers of the Rolling Stone calls "Ruben Brandt, Collector" a "transcendent cinema marvel that re-invents what animation can do." High art becomes high cinema. 
Kamaras plays Dr. Ruben Brandt, a brilliant but tormented psychotherapist who desperately seeks relief by possessing the famous paintings that possess him. Encouraged by several of his nefariously-inclined patients, Brandt embarks on a globetrotting spree to steal a dozen 20th-century masterpieces. From Tate's Picasso in London to MoMA's Warhol in New York, these are the canvases that terrorize Brandt in mind-bending nightmares. Now as the infamous "Collector," and chased from museums to private collections, Brandt must face the art that will come alive before him. 
"Art helps people, it cures people, it heals people, art is therapy, it's alchemy, turning toxic thoughts, emotions, or energy into something better, even beautiful and divine," says Kamaras. It is a conviction long held by Dr. Brandt in his practice, where he uses it with success on his patients, but now, must heal himself. Kamaras continues, "The therapist must heed his credo, that to conquer your problems, you must possess them." 
"This movie can be as simple as it is surreal," says Kamaras, "On the surface, it's a stylish, action-propelled crime story with characters drawn as oddly as those in the stolen paintings -- although we soon accept that a thief can be a four-eyed thief and a socialite three-breasted. Diversity becomes the norm." 
For Kamaras, starring in animation for grownups is new. Now based in Los Angeles, his two-decade career in Hungary spanned theatre, film, and television. 
At 23, upon graduating from Budapest's premiere acting conservatory, Kamaras won the National Theatrical Award for Best Actor as "Othello." Early acclaim led to starring roles on the national stage, including Benedick in "Much Ado About Nothing," Antony in "Antony & Cleopatra," Romeo in "Romeo and Juliet," Stanley Kowalski in "A Streetcar Named Desire," and Brick in "Cat on a Hot Tin Roof."
At the same time, Kamaras became one of Hungary's most bankable box office draws. Significant roles in European film and TV series then became springboards to domestic American productions -- including Guillermo del Toro's "Hellboy II: The Golden Army," "Strike Back," "Die Hard 5," "Spy," "Houdini," and "Fleming."
"This film has a mission, something, that has never been done before," adds Kamarás "Imagine Picasso and Freud animating Dick Tracy. It's turning real art into animation and animation into real art. It is brave to make the statement that art can be cool, smart, thrilling, funny, odd and fancy at the same time. It makes it accessible for a younger generation to see paintings without going to a museum and it challenges what we think of as beautiful."
"Ruben Brandt, Collector" opens in Los Angeles on Friday, Feb. 22 at the Landmark NuArt Theater in West Los Angeles. For a listing of national theatrical dates, please visit: http://www.sonyclassics.com/rubenbrandtcollector/#1stPage
Ivan Kamaras is represented by Open Entertainment. For more, please visit http://www.IvanKamaras.com, follow on Instagram @Kamaras.Ivan and Twitter @IvanKamaras .
Source: Ivan Kamaras
Share:
---
Categories: Celebrities
Tags: animation, art house, award winning films, celebrities, Ivan Kamaras, movie news, Ruben Brandt Collector, Sony Pictures Classics
---