It's Out With Generic and in With Customizable Masks Thanks to MindBeauty
Press Release
•
updated: Feb 16, 2021
Not only does the AM99 face mask provide virus-fighting protection but wearers are also able to customize the product to their liking.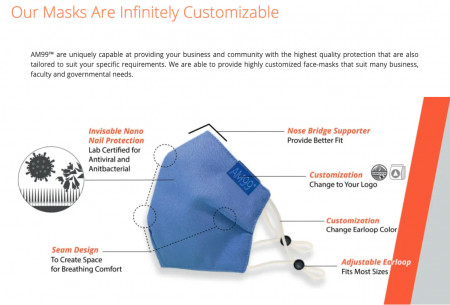 SAN FRANCISCO, February 16, 2021 (Newswire.com) - Face mask fashion continues to gain popularity, and as more and more people are looking to match their masks with their outfits, MindBeauty's reusable, customizable, cotton-based AM99TM mask aligns perfectly with the trend.
Though there are thousands of masks on the market, the AM99 mask is unique for a number of reasons including:
It's JIS L1902 certified, which is the standard that specifies methods to determine the antibacterial effectiveness of woven and non-woven textile products.
Lab research has shown that after 70 hand washes, the AM99 mask remains effective in neutralizing 99.9 percent of MRSA-resistant pathogens used in testing.
Proprietary nanotechnology provides a physical barrier and neutralizes COVID-19 respiratory droplets on contact.
Research has shown 95 percent viral de-activation efficiency within two hours, decreasing the chances of viral transmission.
Beyond the protection, MindBeauty is giving customers the ability to create a customized face mask to match their style.
"Given the fact we'll be wearing face masks for the foreseeable future, we wanted to give our customers the ability to get creative," said Joei Lau, Founder of MindBeauty. "Our customization options give consumers the flexibility to express their style with face mask fashion."
The customization of an AM99 mask starts with choosing a cloth color that comes in black, pink, blue, green, yellow, brown, and more.
From there, consumers are able to add a team logo or a creative design, and finally, the color of the ear loops can be changed to either add an extra pop of color or complement the overall design of the customized mask.
"Masks don't have to be boring," Lau noted, "We're excited to give our customers a blank canvas to express their creativity while also protecting themselves and others with our lab-certified AM99 mask."
Mind Beauty has put in the time and effort to have the AM99 mask rigorously tested across multiple international standards to give consumers the confidence in knowing the mask they're wearing is not only fashionable but, more importantly, the most effective on the market.
Get peace of mind knowing the AM99 mask offers real, proven protection against COVID-19.
About AM99
MindBeauty created the AM99™ line of protective face masks as a response to the heightened need for simple and effective solutions to contain, protect against, and minimize the effects of the global outbreak. The result is a reusable face mask that is an effective, safe, and fashionable option that's early-to-market for users and outperforms other masks in the market landscape. Learn more at am99tech.com.
CONTACT INFORMATION:
Tiffany Kayar
tiffanyPR@newswiremail.io
Source: MindBeauty