Italian Scientologists Keeping Their Neighborhood Safe and Clean
Press Release
•
updated: May 16, 2017
A team of Scientologists from the northern Italian city of Monza are carrying out a series of neighborhood cleanups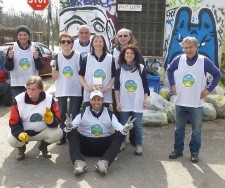 Monza, Italy, May 16, 2017 (Newswire.com) - Spring cleaning has arrived in the northern Italy city of Monza, with a series of cleanups by volunteers from the local chapter of The Way to Happiness Foundation and the Church of Scientology.
Armed with rakes, shovels and brooms they tackled mounds of leaves, food wrappers, and assorted garbage and carried away discarded carpets, old tires, mattresses and dozens of used syringes from the Monza railway station, the parking lot of a local football stadium and the banks of the Lambro River. They left them looking clean and green, ready to receive the many tourists who visit the city each summer.
Here and in cities around the world, neighborhood cleanups are inspired by The Way to Happiness, the nonreligious common-sense moral code written by author and humanitarian L. Ron Hubbard.
The precept "Safeguard and Improve your Environment" states:
The idea that one has a share in the planet and that one can and should help care for it may seem very large and, to some, quite beyond reality. But today what happens on the other side of the world, even so far away, can effect what happens in your own home.
...
Care of the planet begins in one's own front yard. It extends through the area one travels to get to school or work. It covers such places as where one picnics or goes on vacation. The litter which messes up the terrain and water supply, the dead brush which invites fire, these are things one need not contribute to and which, in otherwise idle moments, one can do something about. Planting a tree may seem little enough but it is something.
...
There are many things one can do to help take care of the planet. They begin with the idea that one should. They progress with suggesting to others they should.
Man has gotten up to the potential of destroying the planet. He must be pushed on up to the capability and actions of saving it.
The Church of Scientology and its members are proud to share the tools for happier living contained in The Way to Happiness with all who work to build a better world.
Read the article on the Scientology Newsroom.
Source: ScientologyNews.org
Related Media