iTacit Launches the Front-Line Feed, a Content Hub for Workforce Management Professionals
Press Release
•
May 17, 2022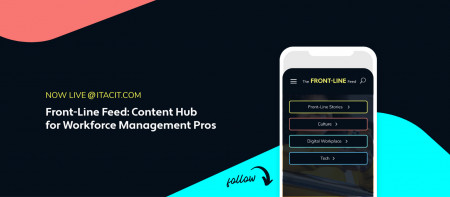 FREDERICTON, New Brunswick, May 17, 2022 (Newswire.com) - Today, iTacit cut the ribbon on the Front-line Feed, a new content channel for articles, news, and guides that relate to employee experience and digital workforce management.
"We saw that there was a need for a place like this in the digital workforce management sphere," states Teri Maltais, Director of Marketing for iTacit. "We're excited to work with content experts and thought leaders to introduce and keep bringing great content to our channel."
The Front-line Feed houses content such as articles, guest blogs, expert guides, and how-tos that are aimed toward professionals in roles ranging from learning and development to employee engagement.
The channel's topics focus on categories like company culture, workforce automation, leadership editorials, and case studies, among others.
iTacit is no stranger to these areas, with its award-winning employee platform rostering clients in diverse industries and partnering with leaders across multiple sectors.
iTacit President and Chief Operating Officer Luke Megarity said: "We're always aiming to elevate our content past what we've done before, and the Front-line Feed is an innovative way to do that and more.
"We've been fortunate to form some excellent working relationships and connections with people who are experts in their fields, and bringing their thoughts to a new place like the Front-line Feed will resonate with their audiences and ours."
The Front-line Feed can be found now at iTacit.com/the-front-line-feed and publishes new content regularly. In phase 2, it will be a meeting place for idea sharing, a digital workforce community, and a forum, as well as the daily destination for all things 'work'.
You can visit it now to sign-up for a roundup newsletter and start viewing articles and videos from digital workforce experts.
About iTacit
iTacit is a workforce communication platform used by over 150,000 employees across 600-plus sites. Whether teams are on the front line or in the office, iTacit increases compliance and makes work more efficient. Implementing automated forms, workflows, training, messaging, and resource sharing into a single access hub, iTacit is revolutionizing how employees connect to critical tools, skills, and the rest of their organization, wherever they are.
Visit iTacit at www.itacit.com, or connect on LinkedIn or Twitter.
Contact:
Teri Maltais
iTacit, Director of Sales & Marketing
teri.maltais@itacit.com
+1 506 874-6799
Source: iTacit