It Costs $20,000 to Hire a Hitman on the Dark Web - PrivacyAffairs Investigation Reveals Truth Behind Dark-Web Assassins
Dark-web black markets offer a plethora of illegal products and services, but do murder-for-hire sites have any credibility?
Press Release
-
updated: Jul 29, 2020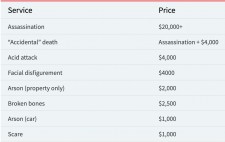 LONDON, July 29, 2020 (Newswire.com) - A recent investigation into dark-web crime websites offering murder-for-hire services concluded that they are most likely scams.
The investigation, carried out by data-privacy and cybersecurity think-tank PrivacyAffairs, took a close look at a range of dark-web hitmen sites to compare the language, promises, and costs involved.
The full investigation can be found here: https://www.privacyaffairs.com/dark-web-hitmen/.
Prices found for varying degrees of violence
There was a range of prices, but most fell into a similar range, which is averaged and rounded below.
| | |
| --- | --- |
| Service | Price |
| Assassination | $20,000+ |
| "Accidental" death | Assassination + $4,000 |
| Acid attack | $4,000 |
| Facial disfigurement | $4000 |
| Arson (property only) | $2,000 |
| Broken bones | $2,500 |
| Arson (car) | $1,000 |
| Scare | $1,000 |
Unknown escrows, juvenile language, guarantees galore
PrivacyAffairs discovered a number of telltale warning signs of scams.
The researchers pointed out that, despite being covered in trust-signals, all of the sites just felt untrustworthy.
"...each of the sites we found have a section of the website where ex-military personnel can sign up to join as a hitman. The prominent positioning of the link looks like another confidence trick."
"There's a level of desperation to look legit that gives it away. Each site is decorated with stock photos of hooded men pointing guns, and we believe that every offering we found is likely a scam."
The websites frequently talk about anonymity and have guarantees everywhere but have no mention of using a specific, trusted, escrow. Of course, any guarantees are completely worthless when dealing with such highly illegal activity.
The websites don't actually look like they were written by serious people, but rather teenagers trying to look tough with a shopping list of violent acts. What's more, the eCommerce style setup, complete with shopping baskets, just makes things far too convenient for a would-be murder conspirator.
"We even found 'testimonials' pages that were just links to murders covered in the news. We were able to find follow-up articles on these cases in which local gang-members were arrested …" 
"There has never been a murder definitively attributed to dark-web hitmen."
"Of course, that could be down to the care of professional killers to not getting caught. Whilst there are many illegal activities occurring on the dark web, we believe hitmen-for-hire sites are mostly scams."
People are going to prison for using these services
There are well-documented cases of people being arrested while attempting to contact organized-crime syndicates and individual assassins in order to have someone killed. Despite no murder taking place, judges are unlikely to have much leniency.
The original research can be found at https://www.privacyaffairs.com/dark-web-hitmen/.
Press Contact
Joe Robinson
joe@privacyaffairs.com
privacyaffairs.com​
Source: PrivacyAffairs
Share:
---
Categories: Organized Crime
Tags: Crime, Cybercrime, Hitmen, Scams
---