Island H2O Live! ACHIEVES CERTIFIED AUTISM CENTER™ DESIGNATION
Press Release
-
updated: Nov 8, 2019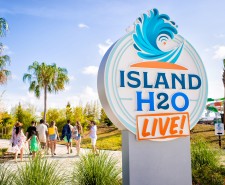 ORLANDO, Fla., November 7, 2019 (Newswire.com) - Island H2O Live! has earned the Certified Autism Center™ (CAC) designation, granted by the International Board of Credentialing and Continuing Education Standards (IBCCES). The certification demonstrates the park's commitment to providing a supportive environment for guests with autism and other sensory disorders.
To receive the CAC designation, Island H2O Live! staff completed autism sensitivity and awareness training to learn how to better communicate and engage with guests with sensory needs and their family members, as well as safety concerns and protocols. The park also completed an onsite review from IBCCES to further enhance the guest experience, including sensory guides which will be provided for visitors to better understand sensory impacts of all rides.
"Island H2O Live! is an immersive experience for all our guests, including guests with autism. We want everyone to feel welcomed into the water park, providing the highest level of care for anyone with special needs," said general manager Jim Kunau. "All water park employees have completed extensive training and taken the time to become educated on providing the best experience for all."
In addition to the CAC designation, Island H2O Live! offers additional accessibility options. As a benefit for those with food sensitivities, an allergy menu is available to review online. Lights and music for each attraction are also fully customizable to suit the needs of all guests.
"We are delighted to have Island H2O Live! become a Certified Autism Center™," said Myron Pincomb, IBCCES Board Chairman. "Their commitment to providing all visitors with the best possible experience is evident. The completion of our certification provides an extra level of confidence and compassion for their staff so that they can best serve all guests."
As a leader in healthcare, education, and corporate certification for 20 years, IBCCES recognized the need for more trained and certified travel and entertainment options. In response to feedback from families and individuals with sensory needs, IBCCES adapted its evidence-based programs specifically for amusement parks, zoos, resorts, aquariums, and other family entertainment venues.
IBCCES also created AutismTravel.com, a free online resource for parents that lists certified destinations and connects families to other resources and each other. Each destination listed on the site has met Certified Autism Center (CAC) requirements.
Island H2O Live! is located in Kissimmee, FL and offers a completely interactive experience, tailored by and for each visitor.
###
About Island H2O Live! 
Island H2O Live! is Central Florida's newest and most immersive water park. Located on Highway 192 next to Margaritaville Hotel, the water park offers 20 different experiences for guests of all ages to enjoy. For those looking to take it easy, Chat Creek guides them through a lazy river where the water does the work. Thrill seekers can experience an adrenaline rush with Drop Down, Follow Me Falls and Reply Racers, as they twist and turn their way through tubes and open-air slides to a dramatic watery plunge. Little swimmers can take a trip to Candy Stripe Cove and Pelican's Paradise for an array of adventures that are age-appropriate, but no less fun for these water-loving kiddos. Private Domain provides an adult-only (21+) oasis to experience the ultimate retreat for those who want the excitement or relaxation of the water park but without the hustle-and-bustle of visiting families. Nearby Tag Shack's private bar is the place for adults to grab a cold drink and chill. Island H2O Live's! proprietary technology creates a unique experience to be shared across a variety of social channels. Upon arrival, guests will be given an RFID Smart Band which allows them to engage their social network through the H2O Live! app. Guests are encouraged to download the app before they arrive, so they are ready to create their profile and manage their entire experience upon arrival. For more information, visit IslandH2OLive.com.
About IBCCES
Delivering The Global Standard For Training and Certification in The Field of Cognitive Disorders – IBCCES provides a series of certifications that empower professionals to be leaders in their field and improve the outcomes for the individuals they serve. These programs are the only training and certification programs endorsed by the largest grassroots autism organization in the world, The Autism Society of America, and recognized around the world as the leading benchmark for training and certification in the areas of autism and other cognitive disorders.
MEDIA CONTACT:
Island H2O Live!
Maria Wyatt-Uhl, Allied Global Marketing
Phone: 561.324.9630
Email: mwyatt-uhl@alliedglobalmarketing.com 
IBCCES
Meredith Tekin, President
Phone: 904.508.0135 // 904.434.1534
Email: meredith@ibcces.org
Source: IBCCES
Share:
---
Categories: Family Travel
Tags: accommodation, amusement park parenting, AUTISM, autism certified, certified autism center, cognitive, credentialing, sensory, special needs, water park
---