Isabel Cueva and Douglas Tait Create Their First Original Comedy Pilot, "The Haunt"
Press Release
•
updated: May 1, 2017
"The Haunt" is officially selected to screen at the Independent Filmmakers Showcase Festival May 7 at 4 p.m. at The Beverly Hills Music Hall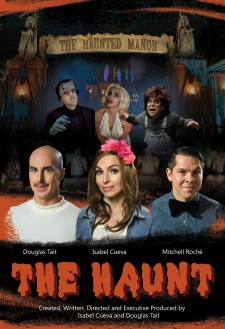 Los Angeles, CA, April 27, 2017 (Newswire.com) - "The Haunt," created by Isabel Cueva and Douglas Tait, is a character-driven comedy/horror pilot set in a small town, where the lives of the veteran cast members of "The Haunted Manor" are shaken after the overzealous director decides to revamp the manor, and make drastic changes.
The trailer for "The Haunt" was recently released on YouTube, and has over 221,000 views! Trailer: https://www.youtube.com/watch?v=ApXPAmiTMW4
"The Haunt" recently premiered at The Hollywood Comedy Shorts Festival and won Pilot Award of Merit and Best Ensemble Cast at the Best Shorts Awards.
Isabel Cueva and Douglas Tait are the creators, writers, directors, and executive producers of this very original comedy pilot. They also star in the pilot. Additional cast includes Martin Klebba ("Pirates of The Caribbean"), and Disney star Adrian R'Mante ("Suite Life of Zack and Cody").
Cueva and Tait produced "The Haunt" under their production company "CAVE Entertainment," with which they had previously produced their multi-award-winning film "In the Name of Freedom," which garnered many festival awards and worldwide distribution (now available on Amazon and iTunes).
CAVE Entertainment is a production company committed to projects that are female-driven, and full of diversity in front of and behind the camera.
Douglas Tait, recently recurred on "Grimm" as the villain in the final season. He starred opposite Julie Benz, and Danielle Harris in the recently released "Havenhurst." Tait has worked in some of Hollywood's most successful films like "Star Trek," and many top TV shows.
Isabel Cueva is an award-winning actress, writer, director and producer. She is currently developing several projects, and will be directing her first feature film, "Brothers and Enemies," later this year.
"The Haunt" Pages:
"The Haunt" Trailer : https://www.youtube.com/watch?v=ApXPAmiTMW4
See entire cast list: http://www.imdb.com/title/tt6738026/?ref_=nm_flmg_act_3The
Cave Entertainment Pages:
Facebook- https://www.facebook.com/CaveEntertainment/
Instagram ► https://www.instagram.com/caveentertainment
Isabel Cueva Pages:
Facebook ► https://www.facebook.com/TheIsabelCueva/
Instagram ► https://www.instagram.com/theisabelcueva
Twitter ► https://twitter.com/Isabelcueva
YouTube ► https://www.youtube.com/user/TheIsabelCueva
Douglas Tait Pages:
Facebook ► https://www.facebook.com/Thecreatureman
Instagram ► https://www.instagram.com/actordouglastait
Twitter ► https://twitter.com/douglastait
Youtube ► https://www.youtube.com/user/douglastait
Press Contact
Marci Brown
CAVEENTERTAINMENTINC@GMAIL.COM
Source: Isabel Cueva and Douglas Tait
Related Media