iS5 Communications Inc. Receives Financing From Export Development Canada
iS5 Communications' financing from Export Development Canada will support the company in the development of the next generation of products.
Press Release
-
Sep 27, 2016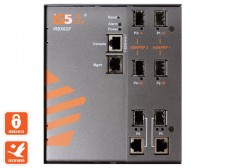 Mississauga, Ontario, September 27, 2016 (Newswire.com) - iS5 Communications Inc. has received financing from Export Development Canada, which provides Canadian exporters with trade financing, export credit insurance and bonding services as well as foreign market expertise. iS5 Communications will utilize the financing to develop their next generation of products. Clive Dias, president and CEO of iS5 Communications Inc. has noted how pleased they are by the support the company has received from Export Development Canada. The financing he says will enhance iS5Com's industry leading technology and thought leadership.
"Core to our mandate at Export Development Canada, we are helping global-minded Canadian companies like iS5 Communications expand their business abroad," said Stephen Callaghan, regional vice-president, Ontario, Export Development Canada. "iS5 has already proven its technology is world class, and EDC's financing provides them with the boost they need to help amplify their product offering to grow their international sales."
iS5 Communications' products are designed to meet the stringent demand requirements of utility sub-stations, roadside transportation, rail, and industrial applications. iS5Com's services and products are key enablers of advanced technology implementation such as the Smart Grid, Intelligent Transportation Systems, Intelligent Oil Field, and the Internet of Things. All of the company's products have the ability to transmit data efficiently without the loss of any packets under harsh environments and EMI conditions. To learn more, visit iS5com.com.
About iS5 Communications Inc.
iS5 Communications is a global provider of integrated services and solutions and manufacturer of intelligent Industrial Ethernet products. The company aims to be the first to market, provide end-to-end solutions, and to be constant innovators in the products and services they provide. For more information, visit iS5com.com.
Contact Information
Clive Dias
President and CEO                       
clivedias@is5com.com                                   
+1 289 201-4536
Source: iS5 Communications Inc.
Share:
---
Categories: Utilities, Information Technology
Tags: development, harsh environment, industrial ethernet, iS5Com, leadership, technology
---