Is There a Way to Lower Recidivism?
Press Release
•
updated: Jun 5, 2019
Briefing members of the American Jail Association Convention on the results of a simple booklet called The Way to Happiness.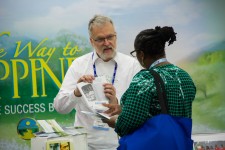 LOUISVILLE, Ky., June 5, 2019 (Newswire.com) - Five out of six state ex-offenders are arrested again at least once within nine years after their release, according to the Bureau of Justice Statistics. The key to addressing this problem, say volunteers from The Way to Happiness Association of Tennessee, is to restore self-respect. The answer is an initiative that has been used to help inmates for the past three decades, based on the study and application of the precepts of The Way to Happiness.
The American Jail Association (AJA) Convention annual conference and jail expo is the only national event that focuses exclusively on local jails and detention facilities. Held this year at Kentucky International Convention Center in Louisville, volunteers from The Way to Happiness Association of Tennessee and Criminon Tennessee set up a booth to introduce members of the AJA to the program and its effectiveness.
"There is no person alive who cannot make a new beginning," wrote L. Ron Hubbard, author of the common-sense guide to better living The Way to Happiness. Since it was first written in the early 1980s, it has sparked a movement and has been reprinted and passed hand-to-hand among a wide variety of cultures and peoples.
Criminon, meaning "no crime," delivers courses and workshops to inmates the world over. One of its key components is The Way to Happiness.
Conference attendees who visited the booth took copies of the booklet for use in their institutions, seeing in it exactly what they need to help their inmates.
"This book spreads calm unparalleled by anything else. It contains common-sense moral messages that anyone can agree with and apply," said Rev. Brian Fesler, regional coordinator for The Way to Happiness Foundation in the Southeastern United States and pastor of the Nashville Church of Scientology.
The Way to Happiness booklet details 21 precepts predicated on the concept that one's survival depends on the survival of others. The Way to Happiness Foundation promotes use of the booklet as a code of conduct that can be followed by anyone.
The Church of Scientology and its members are proud to share the tools for happier living contained in The Way to Happiness. Some 117 million copies have been distributed in 186 nations.
Watch The Way to Happiness book on film on the Scientology Network.
Source: ScientologyNews.org
Related Media