Is the Simple Task of Using Your Mixing Bowl a Two-Person Job? 'It's Time to Get a Grip!'
Introducing the Better Batter Bowl from Better Creations LLC
Press Release
-
updated: Nov 26, 2017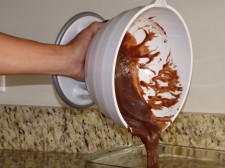 ST. GEORGE, Utah, November 26, 2017 (Newswire.com) - With the patent-pending design and function of the Better Batter Bowl from Better Creations LLC, using a mixing bowl can now be a one-handed job. The four-quart unique-curved bottom bowl sits right in the palm of the hand, while the sturdy non-slip base acts as a handle against the back side of the hand for TOTAL control and comfort. The strength of the user's hands no longer has the responsibility of gripping the mixing bowl - the innovative simplicity of the bowl does.
"We all love to whip up some brownies or a birthday cake, toss a fresh salad or mix up a yummy batch of pancakes for the ones we love. However, no matter what kind of mixing bowl, there is ALWAYS a problem. The GRIP on the bowl determines how the contents are mixed and poured and how long the salad gets tossed. It always turns into a two-person or a two-step job," said Shannon Brown, inventor of the Better Batter Bowl. "Who likes to drip batter across the top of the stove while trying to scoop pancake batter from the bowl? Or yelling for someone to hold the bowl before it slips from your hand because it's too heavy to hold?"  
"Anyone who cooks, whether it be a professional chef, a loving mother, father or even a child, we've all struggled holding on to a mixing bowl. This is the solution we have all been waiting for!" - Stella Edwards, Better Batter Bowl user.
Better Creations LLC has thought of it all. The bottom has a non-slip interchangeable base ring, it has two convenient pour spouts to accommodate right- and left-handed users and is lightweight, dishwasher safe and shatterproof. Available in multiple popular colors. Even use an electric mixer and it won't walk all over the counter. Or scoop it up in the palm of your hand and move around with full mobility. Perfect for people with arthritis, diminished grip or just small hands. Anyone who spends any time at all in the kitchen will love this new take on the traditional mixing bowl. JUST RELEASED in time for the holidays! Perfect gift idea for that special person in your life. Visit www.betterbatterbowl.com today to see this amazing bowl in action. Available on amazon.com for $29.95; eligible for free shipping with Amazon Prime.
"I didn't know I needed it until I held it. Now I can't cook without it!!"  - Marilyn DeVooght, Better Batter Bowl user.
Better Creations is all about simplicity and function. The uniqueness of our Better Batter Bowl is changing feelings of frustration into joy in the kitchen. We proudly offer American-made bowls to everyone - from small helpful little ones, professional chefs, busy parents and all those who have arthritis or challenges with their grip. Our office is located in St. George, Utah, and all our bowls are made locally. Visit us online at www.betterbatterbowl.com.  
We are a family-owned company and proudly make our bowls in the USA.
For more information, please contact Shannon Brown at 435-429-3314 or email at bettercreations@outlook.com.
Source: Better Creations LLC
Share:
---
Categories: Consumer Goods, Active and Healthy Living, Kitchen, Home
Tags: arthritis, baking, bowls, cooking, gifts, kitchen, mixing, new products
---